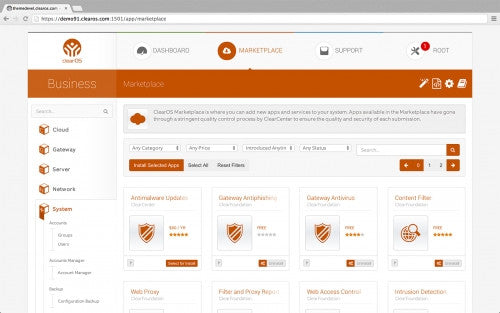 OREM, UTAH - ClearCenter, today announced the official release of ClearOS 7, Business Edition. This marks the latest release of ClearOS, optimized for production IT environments. ClearOS is a long standing and industry award winning small business server operating system, with key strengths being Gateway and Network functions.
ClearOS removes the complexity of deploying and maintaining server, network, and gateway security needs. ClearOS features Marketplace, which intelligently integrates both open and closed source technologies, that allows its users to dynamically expand the functionality of the server to include upwards of one hundred Apps and Services.
ClearOS 7 Business Edition brings with it many new features, including the following:
Samba 4, Directory (a common Microsoft® Active Directory replacement)
New Google® Apps Connector
Updated Microsoft® Active Directory Connector
IPv6 Ready
Streamlined Theme System
Dynamic Dashboard
Updated Antispam and Antivirus Engines
Updated IDS and IPS Engines
Event and Alert Notification Framework
Internationalization
XFS and BTRFS Filesystem Support
Improved Virtualization Support (including Microsoft® Hyper-V)
With such things as commercial add-on services, 3rd party vendor integration, optional turn-key ClearBOX hardware and ClearCARE professional support, millions of users trust ClearOS for their IT needs. ClearOS continues to grow at an alarming rate touting an active community of over 113,000 contributors, a global developer base, and deployments in over 150 countries. ClearOS continues to lead the market, and is commonly named the #1 (or Best) Small Business Server. As always, it also continues to offer it's Community Edition free, with the Business Edition offered in nominally priced subscriptions that include commercial services, apps, and ongoing maintenance and support. Get started using ClearOS 7, Business Edition for free today! 
About ClearCenter
ClearCenter is redefining the way IT is delivered by helping to intelligently integrate open and closed technologies for small and distributed IT environments. ClearCenter provides award-winning products and solutions built for ClearOS consisting of applications, services, support, hardware, subscriptions, and now virtualization; many delivered by a next generation marketplace built for ClearOS. ClearOS is deployed in 300,000+ locations around the globe in 150+ Countries. ClearCenter has offices in New Zealand, Canada, India and the United States of America. Learn more about ClearCenter at www.clearcenter.com or more about ClearOS at www.clearos.com.
* ® Marks and/or products belong to their respectful owners.