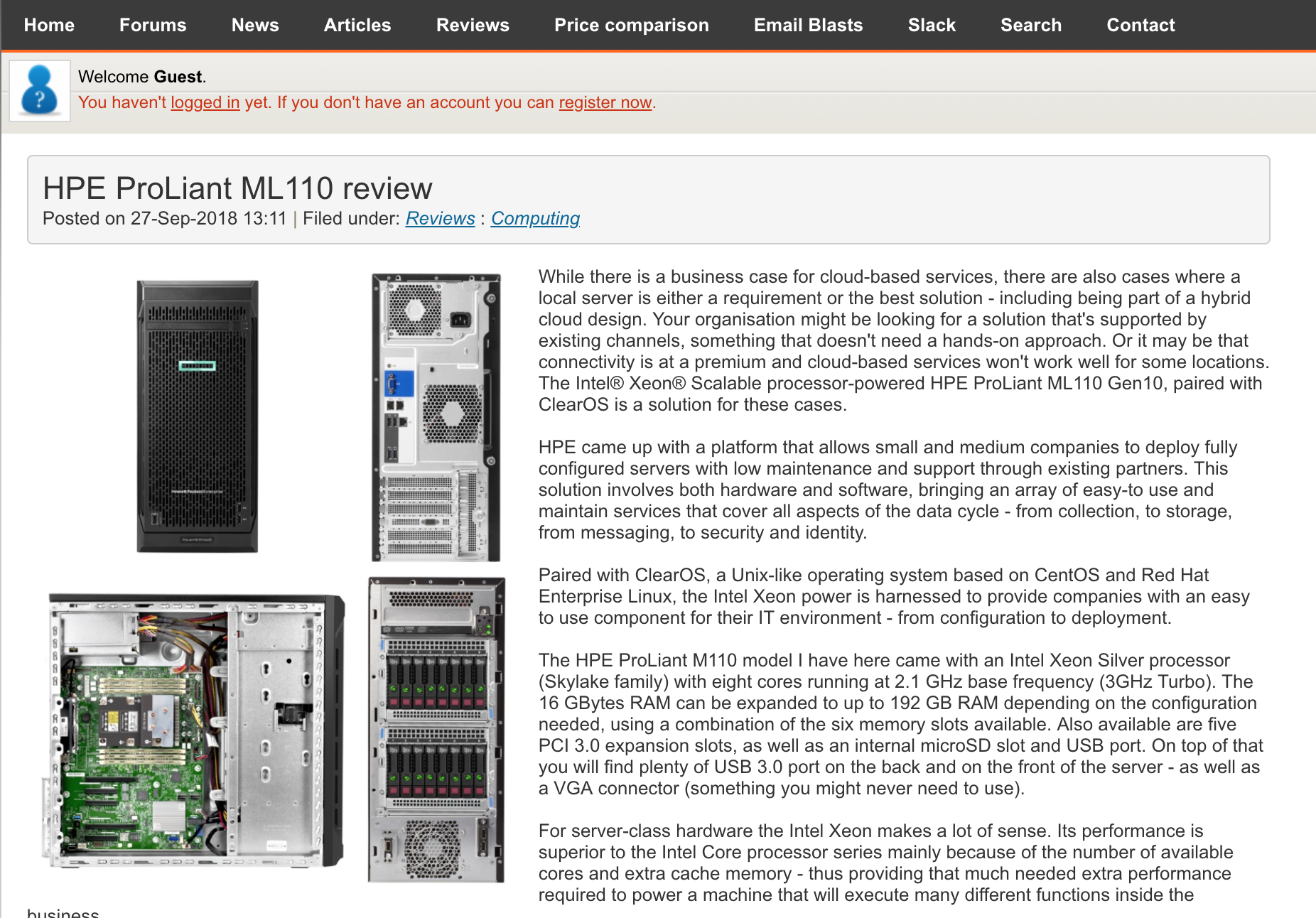 While there is a business case for cloud-based services, there are also cases where a local server is either a requirement or the best solution - including being part of a hybrid cloud design. Your organisation might be looking for a solution that's supported by existing channels, something that doesn't need a hands-on approach. Or it may be that connectivity is at a premium and cloud-based services won't work well for some locations. The Intel® Xeon® Scalable processor-powered HPE ProLiant ML110 Gen10, paired with ClearOS is a solution for these cases.
HPE came up with a platform that allows small and medium companies to deploy fully configured servers with low maintenance and support through existing partners. This solution involves both hardware and software, bringing an array of easy-to use and maintain services that cover all aspects of the data cycle - from collection, to storage, from messaging, to security and identity.
Paired with ClearOS, a Unix-like operating system based on CentOS and Red Hat Enterprise Linux, the Intel Xeon power is harnessed to provide companies with an easy to use component for their IT environment - from configuration to deployment.
The HPE ProLiant M110 model I have here came with an Intel Xeon Silver processor (Skylake family) with eight cores running at 2.1 GHz base frequency (3GHz Turbo). The 16 GBytes RAM can be expanded to up to 192 GB RAM depending on the configuration needed, using a combination of the six memory slots available. Also available are five PCI 3.0 expansion slots, as well as an internal microSD slot and USB port. On top of that you will find plenty of USB 3.0 port on the back and on the front of the server - as well as a VGA connector (something you might never need to use).
For server-class hardware the Intel Xeon makes a lot of sense. Its performance is superior to the Intel Core processor series mainly because of the number of available cores and extra cache memory - thus providing that much needed extra performance required to power a machine that will execute many different functions inside the business.
The configuration I received came with an internal (PCIe) HPE 150GB SATA m.2 SSD, based on Intel technology. This provides the server with a high performance system drive. In addition the server came with two 2TB HDD for storage - storage configuration here can vary depending on requirements, with configurations from four bays through 8 to 16 bays as well. You can use these as standard SATA drives or take advantage of hardware-based RAID features, thanks to the built-in HPE Smart Array S100i.
As mentioned, the HPE ProLiant ML110 can be used "headless", thanks to the built-in HPE iLO (Integrated Lights Out) platform. The iLO platform allows remote access to the server as if you were in front of it - every aspect of the server can be controlled, from remote terminal to power button control. HPE iLO also allows for Intelligent Provisioning, making it easier to install an operating system (if not previously configured from your channel partner).
Also worth noting that the new HPE iLO 5 introduces a HTML5-based remote session client, so you are no longer tied up to Internet Explorer or Java technologies for this feature to work.
You will find three Ethernet ports - two for the server itself and a third one for the HPE iLO platform. You don't have to use all ports. You can use an Ethernet cable for the server OS and one for the HPE iLO. Or if you are using the server as a network gateway, firewall or proxy then you will want to use the two server ports. Your needs will dictate how the connections are used.
You can rely on existing channel partners to provide the best configuration for your organisation's needs and if needed, ongoing support and services. The way it works, HPE is making a series of ready-to-ship, pre-configured HPE ProLiant ML110 available from a menu, accessible from partners. This menu takes in consideration organisation or office size as well as services to be used.
Some of these configurations come with a USB key containing the ClearUTILS software that allows customers to install either ClearOS or ClearVM (if hypervisor-based virtualisation is required). Alternatively, your partner can have this machine already configured for you.
In terms of software, ClearOS can be used to manage all communications and storage needs within the office. Through a browser-based interface you can pick from more than 100 apps available in six categories: Cloud, Gateway, Server, Networking, System and Reports. Installation and management tasks are completely performed using this web-based interface - no command line in sight.
The browser-based interface is clean and easy to use. All installed apps use the browser-based interface for configuration, which means you won't need a monitor/keyboard/mouse setup for your server.
Worth mentioning, these apps include firewall, bandwidth manager, DHCP server, NAT, DNS server, VPN (OpenVPN, PPTP), IPsec connections between networks, RADIUS server, SSH server, Web Proxy server, Web server, and intrusion detection.
You can also install printing services, LDAP, FTP server, IMAP and POP server, email services (antimalware and antispam), Samba (Windows networking), PHP, Plex Media server and more.
Data security is fully covered as part of the system, including account management, groups, 2FA, PC backups, bare metal (server) backup, software RAID management and more.
Even if your organisation already use other servers or cloud services you can easily integrate the HPE ProLiant in a mixed environment - for example the Microsoft Active Directory Connector allows you to extend the Active Directory features to the remote site.
ClearOS uses the "as-a-service" model, where you pay an annual fee based on the level of support and services available to your account. For example, the Bronze level gives you access to the ClearOS software (including the free apps) plus software updates. The Silver level includes this plus a remote configuration backup, intrusion detections/preventions signatures (IDS/IPS), content filtering, antispam and antimalware rules. The next level, appropriately named Gold gives you all these features, plus comprehensive support via email - including remote login support. The last level adds phone support to this package.
While most apps are included in the "as-a-service" model you will find a few of them might incur an additional annual charge. That's likely to happen if the service requires the use of external storage or orchestration e.g. account synchronisation across distributed systems.
Overall the idea with this solution is to provide small and medium business with a trusted platform that can as easily be managed in-house as well as managed by a partner through value-added services. The The Intel® Xeon® Scalable processor-powered HPE ProLiant ML110 is a high performing server, with robust storage and processing capabilities. Multiple configuration and services options offered by its pairing with ClearOS makes this bundle a perfect match for branch/hybrid cloud environments, supporting different IT strategies and easily adapting to different scenarios thanks to the richness of applications offered on the ClearOS platform.
Read the full article at:
https://www.geekzone.co.nz/content.asp?contentid=21893