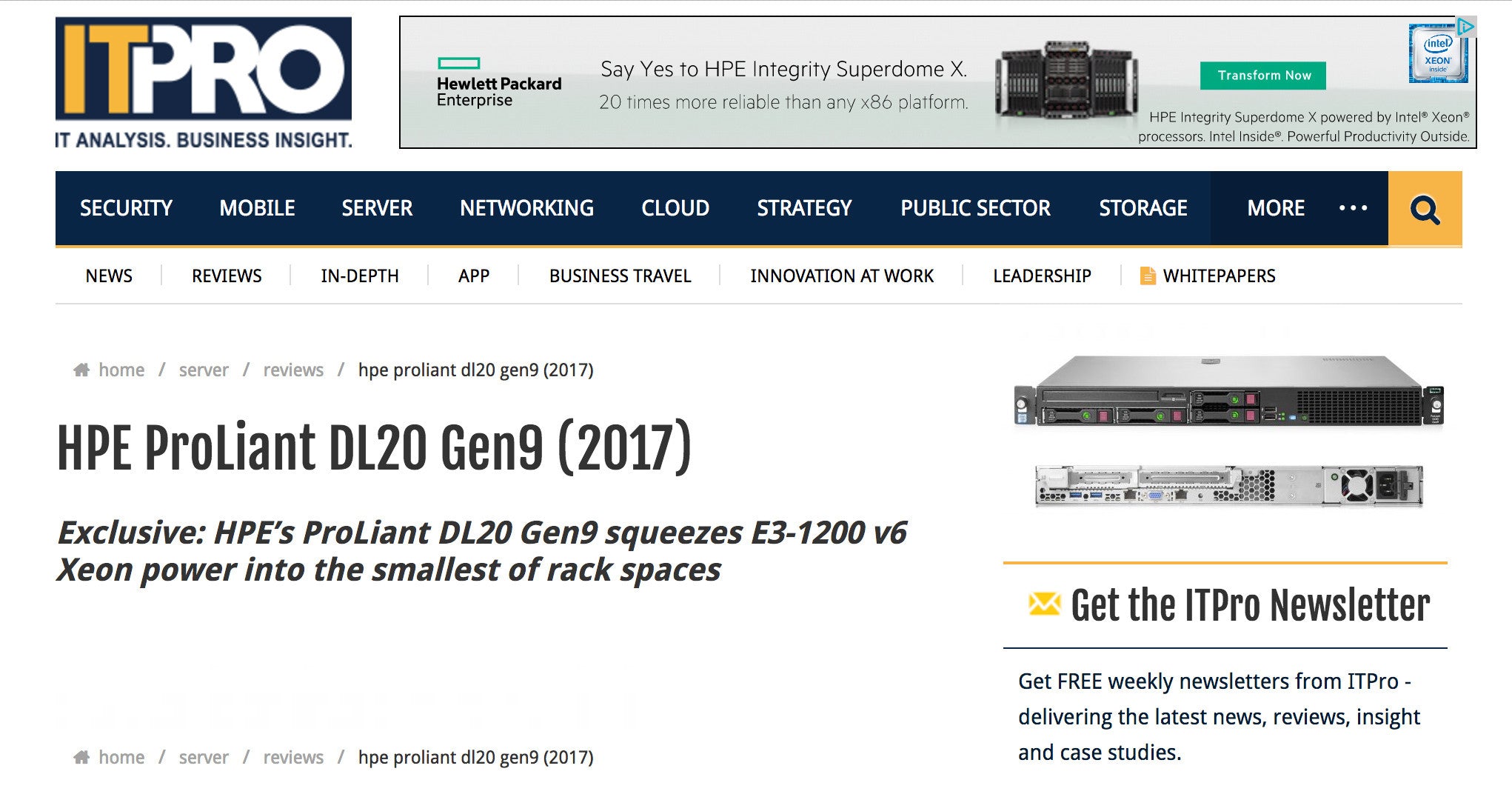 Coming hot on the heels of Intel's launch of its E3-1200 v6 Xeons, HPE's ProLiant DL20 Gen9 rack server delivers a powerful little rack package that looks ideal for space-constrained businesses. Choice is king as the new server supports six of these 'Kaby Lake' CPUs or you can save some cash and plump for the latest Pentium or Core i3 CPUs instead.
The DL20 Gen9 looks great value with the entry-level 3.5GHz dual-core G4560 equipped model costing a shade under £450 ex VAT. This also includes 8GB of fast 2,400MHz DDR4 ECC memory, support for two LFF cold swap drive bays and a 290W PSU.
Our review system is one of HPE's Performance models which presents a powerful 3.7GHz E3-1240 v6 Xeon teamed up with 16GB of DDR4. The list price of £1,269 looks good as it includes HPE's H240 Smart Host Bus Adapter with 12Gbps SAS 3 support plus the 900W redundant PSU option.
The DL20 Gen9 may be small but it's well designed and highly expandable
Build quality, cooling and noise
Build quality is good with the solid chassis exhibiting very little flexing. It may only be 15in deep, but HPE has packed a lot into it allowing the server to grow easily with demand.
Cracking the lid open reveals a tidy interior affording easy access to all the important bits for routine maintenance and upgrades. The compact motherboard lurks in right-hand side and takes up less than half the internal space.
The processor socket sits at the front where it's serviced by two small dual-rotor cooling fans. Another dual-rotor fan sits in the middle of the chassis and is angled so it points at the dual-slot expansion riser card.
The server will please your inner librarian as it's remarkably quiet. Using the excellent SPLnFFT iOS app, we recorded very low noise levels of only 40dB with our iPad one metre away from the front of the server.
During installation, you can link the server directly to HPE's remote support
Storage and expansion options
Along with a choice of dual LFF or quad SFF drives, the DL20 Gen9 offers plenty of RAID options. Base systems have an embedded Smart Array B140i chip which provides a four-port mini-SAS connector on the motherboard and supports stripes, mirrors and RAID5 arrays for SATA drives.
For 12Gbps SAS support you can start with HPE's H240 Smart Host Bus Adapter which also offers stripes, mirrors and RAID5 arrays. The server also supports HPE's high-end Smart Array P440 card which adds RAID6 and 60 to the mix plus an optional 4GB FBWC (flash backed write cache) backup module.
A new option for the DL20 Gen9 is HPE's M.2 SSD PCI-Express enablement board. This provides a pair of M.2 SSD slots which are cabled to the motherboard's spare SATA ports although if you already have the optical drive kit installed, you'll only be able to use one M.2 SSD.
Network options abound as you can complement the dual embedded Gigabit ports with a good selection of extra network cards. We recommend the riser card with the FlexibleLOM slot on one side as this supports HPE's FlexFabric range which includes a quad-port 10Gbase-T model.
The server's embedded iLO4 offers a superb set of remote management features
iLO4 and OneView
Remote management is exemplary as the server is endowed with HPE's iLO4 controller which shares access with the first embedded Gigabit port. It offers a superb range of features all gathered together in a very well designed web console.
The DL20 Gen9 snaps in neatly with HPE's OneView enterprise management software which provides a central console for all your HPE servers, storage networks and virtualized environments. We run OneView as a Hyper-V VM in the lab and it only took a few seconds to add the server by entering the IP address of its iLO4 port and providing our access credentials.
OneView is free for system monitoring where we could keep an eye on CPU and power usage plus temperatures, run remote control sessions and power the server up and down. System management requires an Advanced license which enables features such as automated provisioning, setting boot modes and firmware version maintenance.
The DL20 Gen9 snapped in neatly to our lab's OneView management console
ClearOS
Along with support for all major OSes, the DL20 Gen9 is now available with the ClearOS Linux-based software. HPE has formed a partnership with ClearCenter and offers selected models with an HDD preinstalled with ClearOS.
On first contact, the server offers the opportunity to try ClearOS and provides a simple wizard routine to help set the OS up and decide what features you want to install. The Community edition is free while the paid-for Enterprise edition can turn the DL20 Gen9 into an all-in-one business server with access to over 300 apps and customer support.
We chose to load apps for gateway, DNS, Active Directory plus firewall services and ClearOS then offered us access to the app store. This provides an impressive range of business apps including gateway anti-virus, anti-spam, web content filtering and cloud backup services.
HPE is offering the server with ClearOS preinstalled so you can try it out
Conclusion
HPE's affordable ProLiant DL20 Gen9 is a versatile rack server ideally suited to a wide range of SMB and enterprise tasks. Storage features and expansion potential are both impressive, remote management options are the best and support for the latest E3-1200 v6 Xeons allows it to deliver a processing power that belies its minuscule dimensions.
Read the full review at http://www.itpro.co.uk/server/28909/hpe-proliant-dl20-gen9-2017