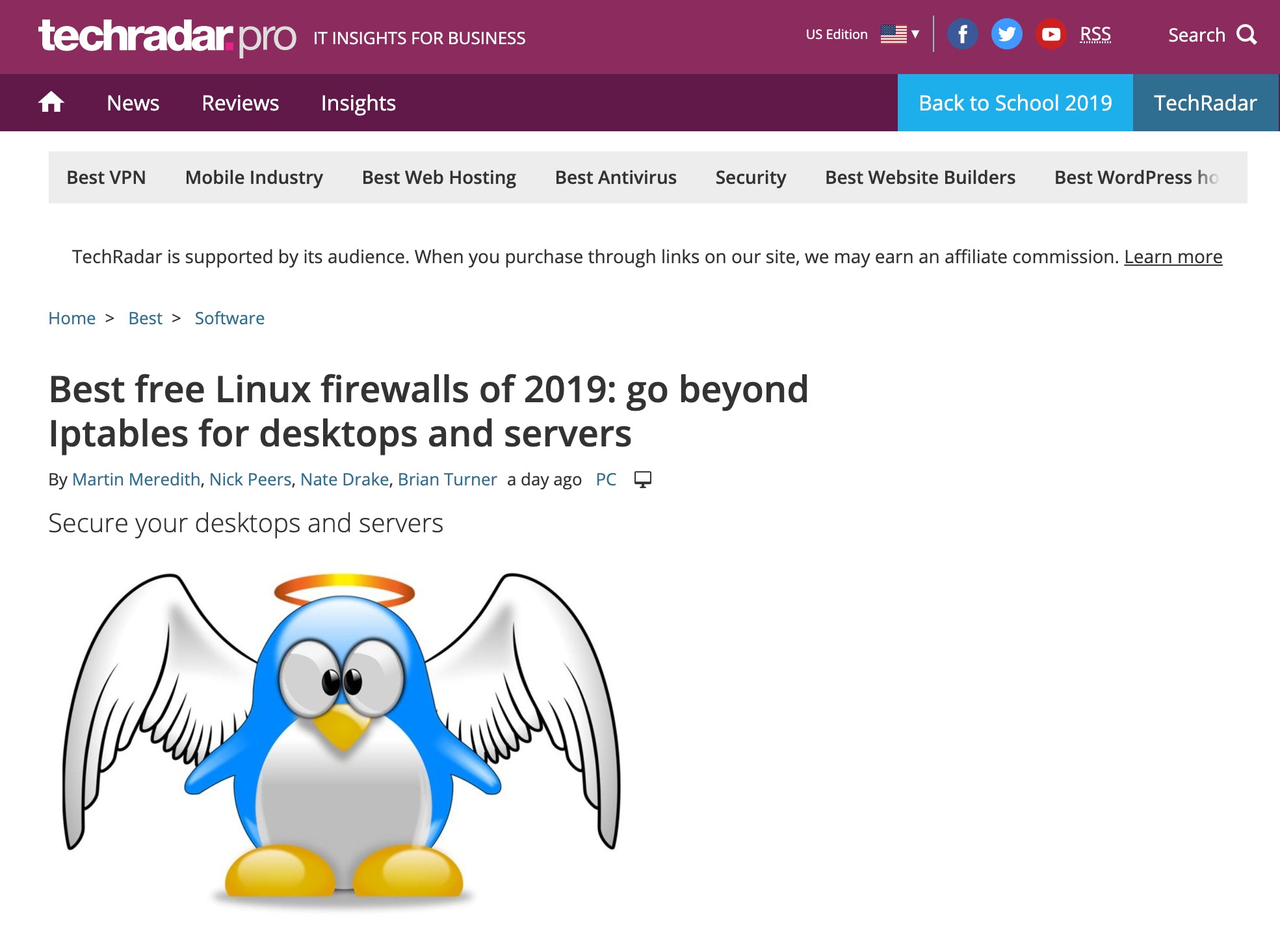 TechRadar named ClearOS as No. 1 on its list of the Top 5 Best Open Source Linux Server Distributions of 2019.

Some highlights of the review are below.

Read TechRepublic's full review at https://www.techradar.com/best/best-free-linux-firewalls
Linux distros will often come with at least a basic firewall bundled with it. Often this won't be active by default so will need to be activated.

Additionally this will likely be the standard Iptables supplied, even though less experienced users may struggle with it. UFW - Uncomplicated Firewall is also bundled with some distros, and aims to make the process simpler.

However, there are distros and applications out there that can cater for the more advanced user and the less experienced one, making it easier to setup and configure a firewall that works for your needs.

Some, like ClearOS build it directly into the operating system as part of its security focus, but most other options would be applications that aim to block rogue IPs, monitor ports, and prevent otherwise prevent bad packets from interfering with your machine.

For most home users there are few actual settings that need to be customized, so simple apps can be popular, but for those looking to manage their machine as a server, additional controls and advanced command options will tend to be the more welcome.

ClearOS is by far the sleekest looking firewall distro in this roundup. It's obvious that a lot of time and care has gone into developing the interface.

As most firewall distros are written for the stereotypical geek, it's nice to see a refreshing change in what seems to have become the de facto standard of 'cobble it together and think about the interface afterwards'. This said, ClearOS will run quite happily from the command line for more advanced users.

The installation is painless and takes around 10 minutes to complete. You're given the choice to start in Public Server or Gateway mode, depending on how you want to use ClearOS.

Once done, reboot and you'll be given all the info you need to access and administer your new firewall remotely. Everything is straightforward – it's obvious that a lot of thought has gone into making ClearOS as easy-to-use as possible.

Once you've completed setup and accessed the web-based admin system, it doesn't take long to familiarise yourself with the various settings and features of ClearOS as the distro provides 'Getting Started' help once you log in to the web interface. Setting up firewall rules is quick and painless, as is much of the other configuration.

The most pertinent feature of ClearOS is its usability, but this distro is about a lot more than just sleek looks. It packs in plenty of features as well – not only does it give you a simple, clean way to manage a firewall, but it enables the addition of extra services to your network.

Overall, ClearOS is a powerful distro. As it's available in both free 'Community' and paid 'Professional' versions, it's perfect for both homes and small businesses.