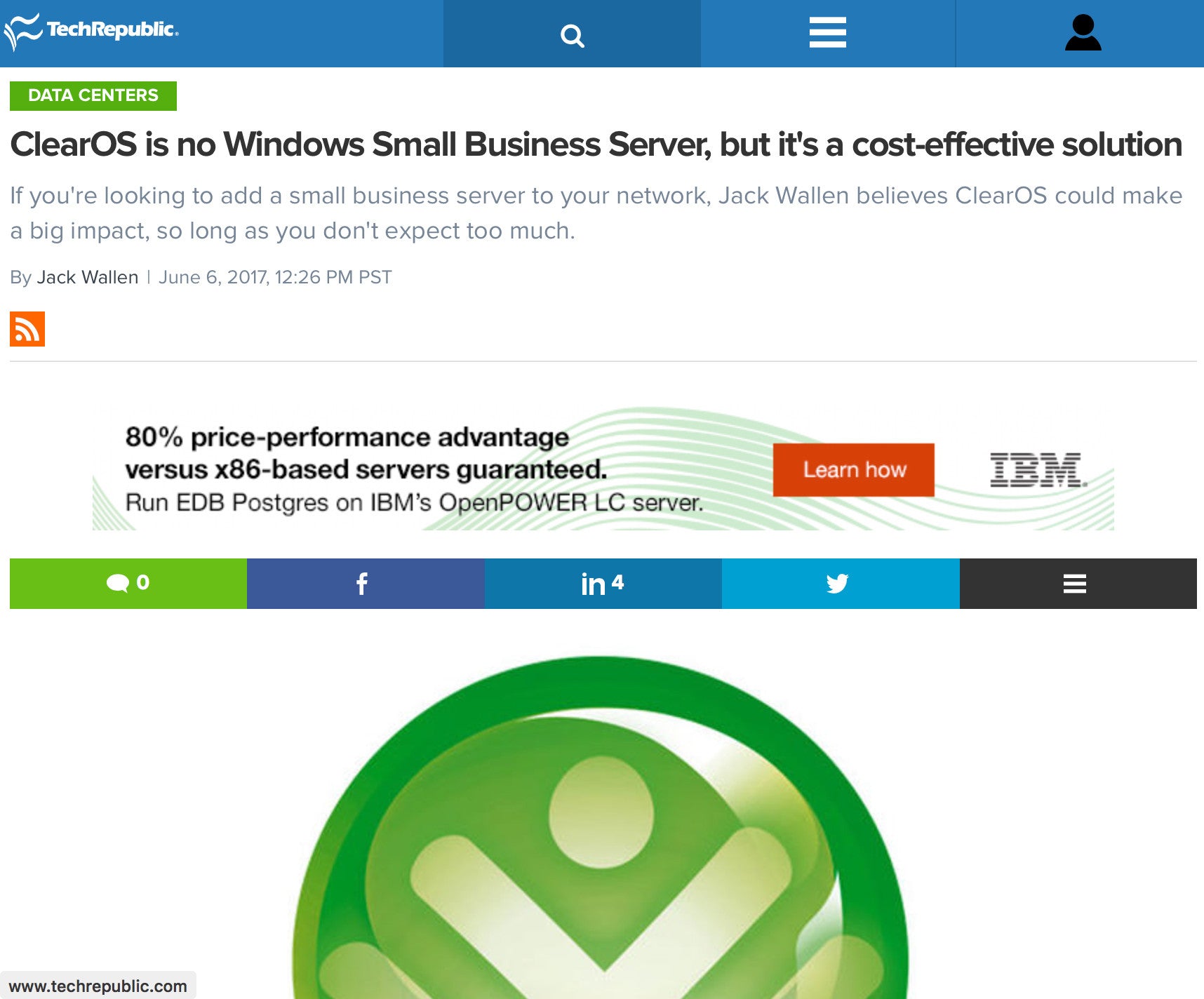 Small business data centers often rely on unique solutions to typical problems. Why? Cost savings. Many times, the pinching of pennies comes easily by way of the Linux platform. Within the Linux world, you'll find a number of outstanding server software that can help to power your business in ways you may not have considered.
The problem with small businesses making use of Linux can often come by way of complexity in deployment. Although Linux has come a long way with regards to user-friendliness, there can sometimes be an added layer of complexity when we're talking about server software. This extra learning curve is very often easily overcome by anyone with a moderate level of IT skills. And for anyone that has used Linux before, it is generally a no-brainer. But for those in need of a data center solution, without the benefit of a high-level IT expert on hand, where do you turn?
One solution is ClearOS. What is ClearOS? According to their own marketing material:
"ClearOS is a simple, open, and affordable operating system with an intuitive graphical web-based user interface and an application marketplace with over 100 apps to choose from, with more being added every day. Leveraging open source software, you decide what applications you need and only pay for the applications and support you want."
But does their PR material hold up? Is ClearOS something you could use for your small business? I kicked the tires of the ClearOS Community edition to find out.
Editions
Notice I said Community edition. What does that mean? ClearOS offers three flavors of their platform:
To find how each edition differs, check out the ClearOS feature matrix here.
Installation
There's really no need to go through the installation process for ClearOS, as it is incredibly simple. If you've ever installed Linux (or an operating system period), you won't have any problem with ClearOS. Using VirtualBox, I had a ClearOS virtual machine up and running in about 20 minutes (which included post-install wizard and platform updates). Once you've completed the base install, the post-install wizard, and the updates (all done from within an incredibly well-designed web interface), you are ready to start adding apps from the ClearOS Marketplace, which is where the platform really shines.
Adding apps
Let's take a look at the process of adding applications to your ClearOS server, as this will demonstrate just how easy this ecosystem is to use. Once you've taken care of the initial setup, you will find yourself on the ClearOS Marketplace Getting Started page (Figure A).
Figure A
On this page (which is actually the ClearOS Marketplace Wizard), you need to select how you would like ClearOS Marketplace apps to be displayed. There are four options:
By Function displays apps according to task
By Category displays groups of related apps
Quick Select File allows you to select pre-configured templates to get you up and running quickly
Skip Wizard allows you to skip the ClearOS Marketplace Wizard
Select the option that best suites your needs and then click the Next button. You will then have the opportunity to walk through the selection of apps/services to install on your ClearOS server (Figure B).
Figure B
App choices include:
Directory Server
Microsoft Active Directory Connector
1-to-1 NAT
Custom Firewall
DHCP Server
DMZ
DNS Server
Dynamic DNS
Dynamic VPN
OpenVPN
Gateway Antiphishing
Antivirus
Intrusion Detection
Content Filter Blacklist
RADIUS Server
Web Access Control
Web Proxy Server
Google Apps Account Sync
IMAP and POP Server
BackupPC
Remote Data Backup
Dropbox Sync
Plex Media Server
ownCloud for Business
Some of the apps are free, whereas some do have an associated cost. Go through the listing of available apps to see if any of the apps/services meet your needs and fit your budget. Once you've selected all the apps you want to install, click Next, review the install list (Figure C), and click Download and Install.
Figure C
The apps and services will install and prompt you to update the Navigation Menus. When prompted, click that button and then click Next. At this point you are ready to configure your custom dashboard. If you don't want to bother with customizing the dashboard, click Use Default and you're ready to go. The default dashboard allows you to select (using drop-down menus) what you would like to appear in the dashboard. You can also, at this time, begin to configure the apps/services you just installed.
One thing that was quite impressive was how easy ClearOS made setting up the LDAP service. Normally this process can be quite the headache, but ClearOS found a way to make it as painless as possible.
Its true purpose
One thing you will not find on ClearOS is the means to create an environment to mimic, feature for feature, that of a Microsoft Small Business Server or its successor Windows Server. So if you're looking to serve up apps like MS Office, via Terminal Server, you're out of luck. That's okay, because you can always install the Dropbox app for free and make use of their Paper server. That, of course, is no real alternative for a full-featured office suite. But that's not really the point of ClearOS (at the moment), as this is less a productivity server and more a business-class server that can help to protect and expand your small business network. In other words, if you're looking for an incredibly simple to setup and manage firewall, VPN, DNS, DHCP, and all-round general network appliance, ClearOS is exactly what you want. If you're looking for something to replace an MS SMB, look elsewhere.
Maybe, in the future, ClearOS will see to it to connect the likes of Collabora Online(LibreOffice on line), so that it could better compete with the likes of Windows Small Business Server. Until then, make use of ClearOS as your small business network appliance go-to.
Read the full review here.