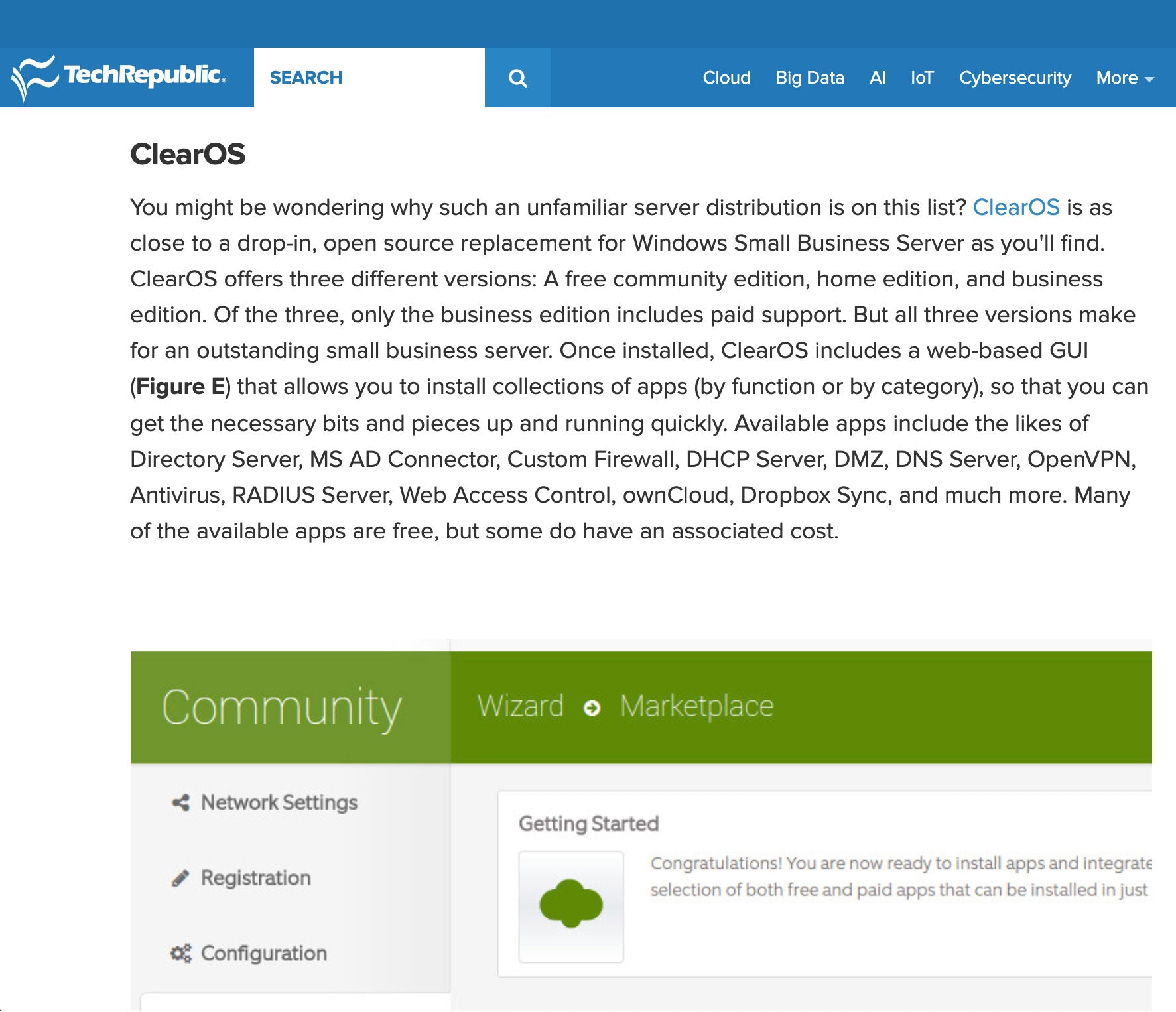 Jack Wallen at TechRepublic named ClearOS to his list of the Top 5 Best Open Source Linux Server Distributions.

Some highlights of the review are below.
Read TechRepublic's full review at https://www.techrepublic.com/article/5-best-open-source-linux-server-distributions
Highlights:
Looking for a Linux server distribution? Try one of these five.
In this modern age, when you ask yourself, "What server platform should I use?" the default answer is no longer a simple, "Windows Server." There are tons of available options, from on-premise servers, to cloud-based solutions, and everything in-between. But for those who want a standard, bare-metal and OS solution, there's always Linux.
Let's take a look at the five I believe to be the best platforms to meet your small to mid-size business needs. The only requirements for this are that the operating system must be open source and Linux.
ClearOS
You might be wondering why such an unfamiliar server distribution is on this list? ClearOS is as close to a drop-in, open source replacement for Windows Small Business Server as you'll find. ClearOS offers three different versions: A free community edition, home edition, and business edition. Of the three, only the business edition includes paid support. But all three versions make for an outstanding small business server. Once installed, ClearOS includes a web-based GUI (Figure E) that allows you to install collections of apps (by function or by category), so that you can get the necessary bits and pieces up and running quickly. Available apps include the likes of Directory Server, MS AD Connector, Custom Firewall, DHCP Server, DMZ, DNS Server, OpenVPN, Antivirus, RADIUS Server, Web Access Control, ownCloud, Dropbox Sync, and much more. Many of the available apps are free, but some do have an associated cost.