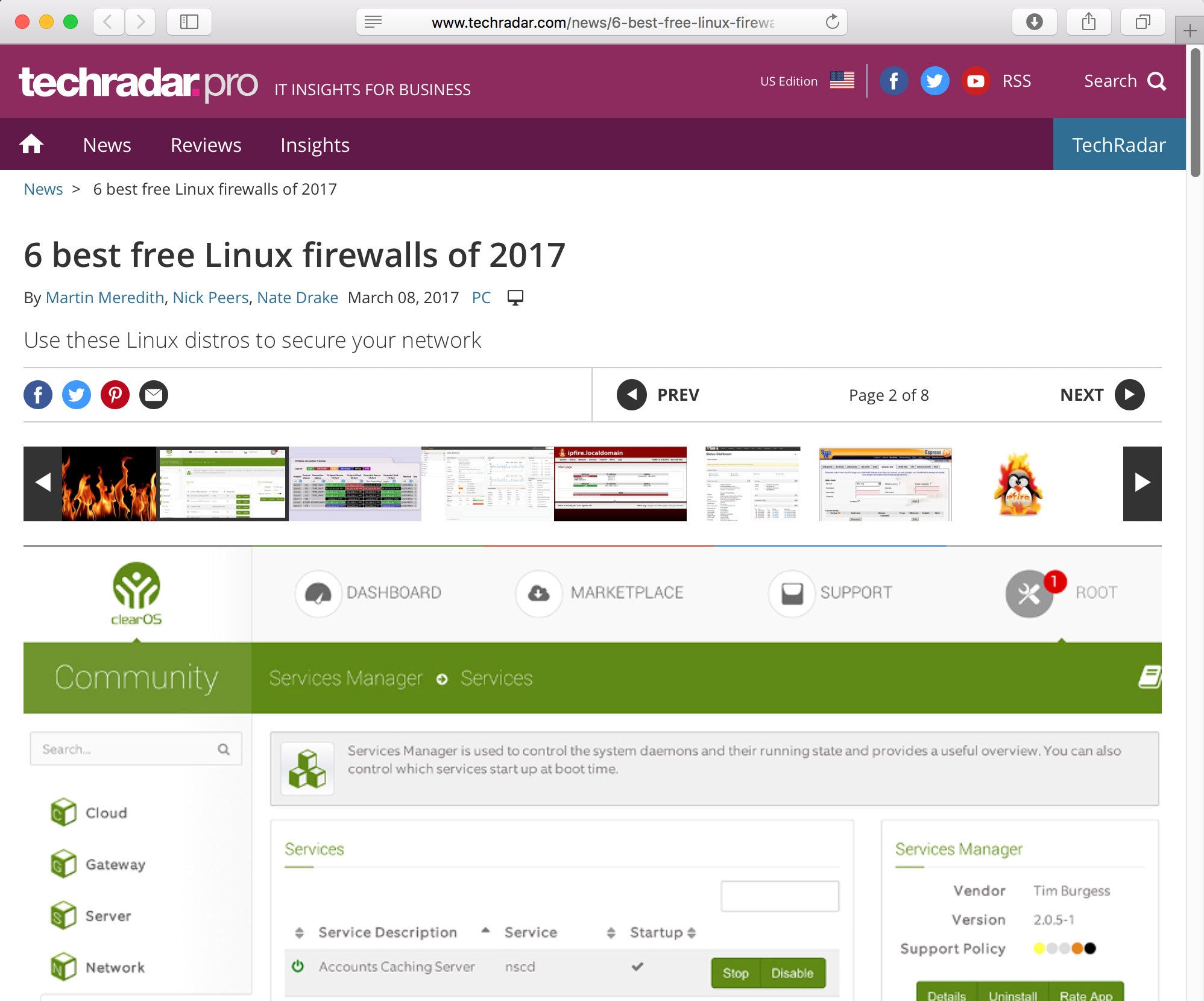 ClearOS recently took the No. 1 spot in TechRadar's "6 best free Linux firewalls of 2017" list.
While ClearOS was created to make IT management easier by integrating Server, Network and Gateway layers, sometimes you just need to quickly deploy a secure firewall. For those times, we have you covered too.
ClearOS gives you the freedom and flexibility to protect and manage your entire IT environment or you can select just the services/apps needed to fill gaps in your existing infrastructure from the ClearOS Marketplace.
Some highlights of the review are below.
Read TechRadar's full review at
http://www.techradar.com/news/6-best-free-linux-firewalls-of-2017
Highlights:
"ClearOS is by far the sleekest looking firewall distro in this roundup. It's obvious that a lot of time and care has gone into developing the interface.
As most firewall distros are written for the stereotypical geek, it's nice to see a refreshing change in what seems to have become the de facto standard of 'cobble it together and think about the interface afterwards'. This said, ClearOS will run quite happily from the command line for more advanced users.
Everything is straightforward – it's obvious that a lot of thought has gone into making ClearOS as easy-to-use as possible. Setting up firewall rules is quick and painless, as is much of the other configuration.
The most pertinent feature of ClearOS is its usability, but this distro is about a lot more than just sleek looks. It packs in plenty of features as well – not only does it give you a simple, clean way to manage a firewall, but it enables the addition of extra services to your network.
Overall, ClearOS is a powerful distro. As it's available in both free 'Community' and paid 'Professional' versions, it's perfect for both homes and small businesses.
A well thought-out distro that's refreshingly easy-to-use and expands to suit your needs."