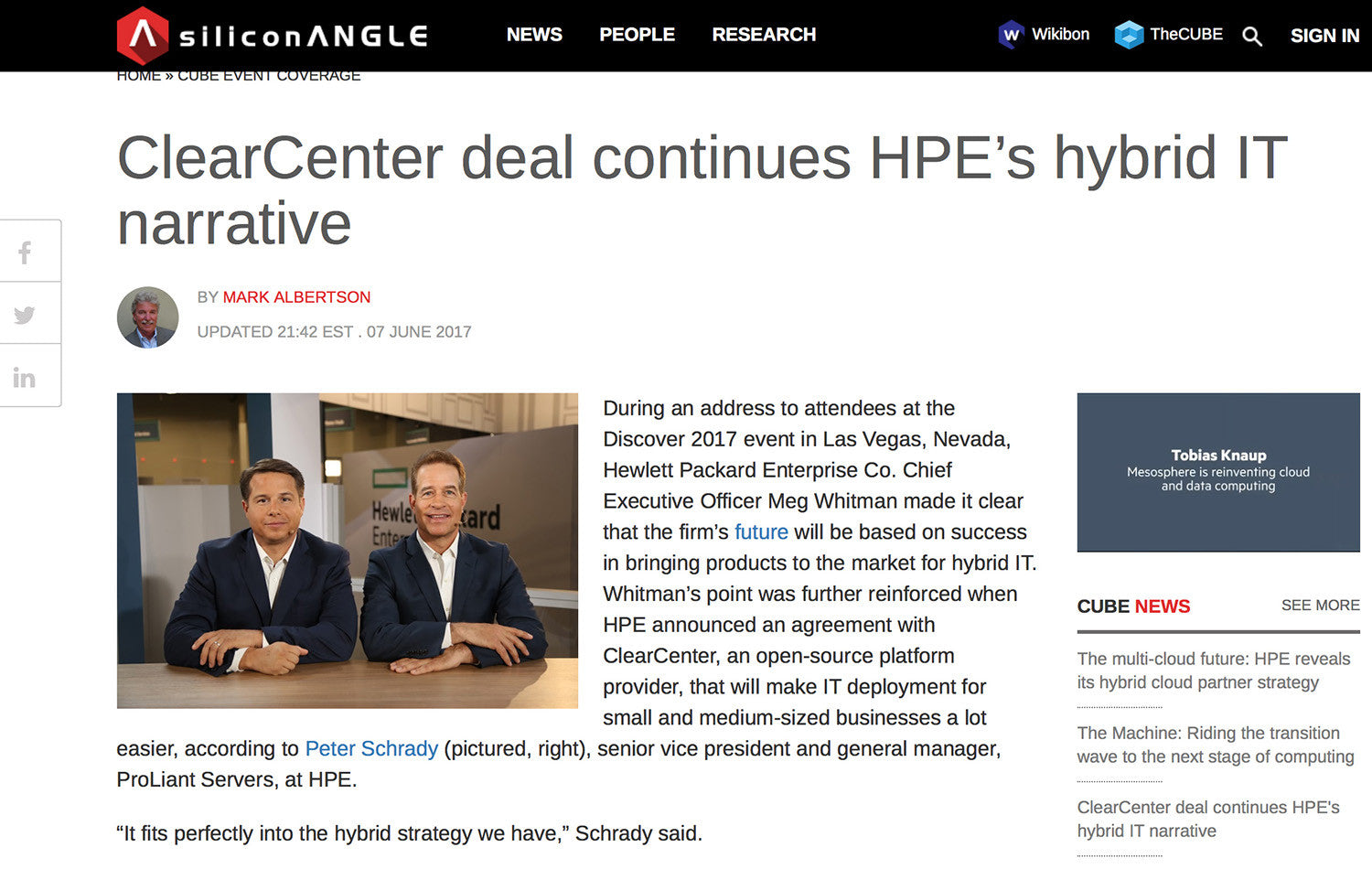 During an address to attendees at the Discover 2017 event in Las Vegas, Nevada, Hewlett Packard Enterprise Co. Chief Executive Officer Meg Whitman made it clear that the firm's future will be based on success in bringing products to the market for hybrid IT. Whitman's point was further reinforced when HPE announced an agreement with ClearCenter, an open-source platform provider, that will make IT deployment for small and medium-sized businesses a lot easier, according to Peter Schrady (pictured, right), senior vice president and general manager, ProLiant Servers, at HPE.
"It fits perfectly into the hybrid strategy we have," Schrady said.
Schrady commented on the new deal during a visit to theCUBE, SiliconANGLE's mobile live-streaming studio. Schrady was joined on the set by Michael Proper (pictured, left), chief executive officer of ClearCenter, and answered questions from hosts John Furrier (@furrier) and Dave Vellante (@dvellante), during HPE Discover US 2017 in Las Vegas, Nevada. They discussed how the partnership will benefit the SMB market and what got both companies together in the first place. (*Disclosure below.)
ClearOS will be pre-loaded on HPE's servers
The partnership with ClearCenter will pre-load ClearOS (a Linux-based operating system) onto HPE's ProLiant Servers. The goal is to make it easier for small or medium-sized offices to use network, gateway, sever and security apps right out of the box.
"Our real primary goal is to make it very secure, very simple and very affordable," Proper said. "The boxes for all of those three things haven't been checked in the IT industry."
Proper emphasized that ClearCenter's technology provides HPE with an intelligent on-premise solution that can be easily deployed from its servers. "It's intelligence for not just X86-based ProLiant Servers or wireless access points, but also cellular devices all into one management system," Proper said.
Asked what led to the partnership between the two companies, Schrady described how he received a note from Whitman urging him to contact Proper and see whether there might be common ground. Proper met Whitman at a fundraiser, and their chance conversation led to the major announcement.
Watch the complete interview below and be sure to check out more of SiliconANGLE's and theCUBE's independent editorial coverage of HPE Discover US 2017. (* Disclosure: TheCUBE is a paid media partner for HPE Discover US 2017. Neither Hewlett Packard Enterprise Co. nor other sponsors have editorial control on theCUBE or SiliconANGLE.)
Read the full article here.