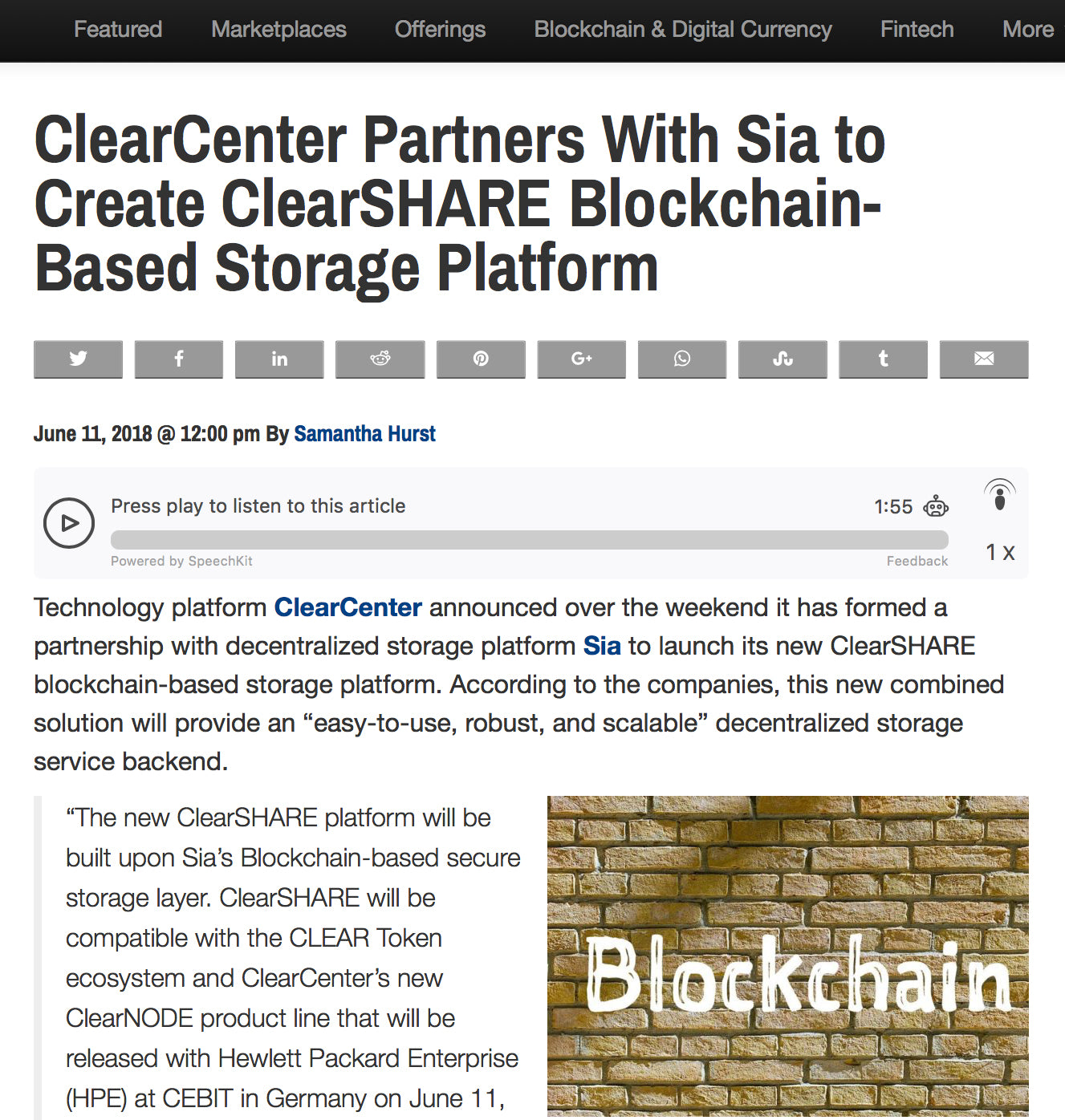 Technology platform ClearCenter announced over the weekend it has formed a partnership with decentralized storage platform Sia to launch its new ClearSHARE blockchain-based storage platform. According to the companies, this new combined solution will provide an "easy-to-use, robust, and scalable" decentralized storage service backend.
"The new ClearSHARE platform will be built upon Sia's Blockchain-based secure storage layer. ClearSHARE will be compatible with the CLEAR Token ecosystem and ClearCenter's new ClearNODE product line that will be released with Hewlett Packard Enterprise (HPE) at CEBIT in Germany on June 11, 2018. ClearNODE is a bundle of hardware, software and services aimed at providing a secure platform and decentralized app (Dapp) marketplace for Blockchain-related services, developers and applications."
The duo then reported that ClearSHARE will have the option to combine Sia's back-end storage with Nextcloud's user interface and integrate both services into ClearCenter's ClearOS operating system. It was revealed:
"ClearSHARE will mirror data both on-premise and also in a secure decentralized peer-to-peer global cloud network. ClearSHARE automatically splits, encrypts, and distributes customers' files and data in the background without requiring special IT skills or knowledge to implement. The customer only has access to encryption keys and maintains absolute control over his or her data."
While sharing details about the partnership, David Vorick, Sia's Lead Developer, stated:
"Decentralized cloud storage brings huge benefits. We are excited that ClearSHARE will bring Sia to small businesses and enterprises with a user-friendly solution."
ClearCenter Founder and CEO Michael Proper, added:
"We're grateful for the team at Sia and their willingness to work with us to help the ClearSHARE platform succeed." 
Read the full article here.