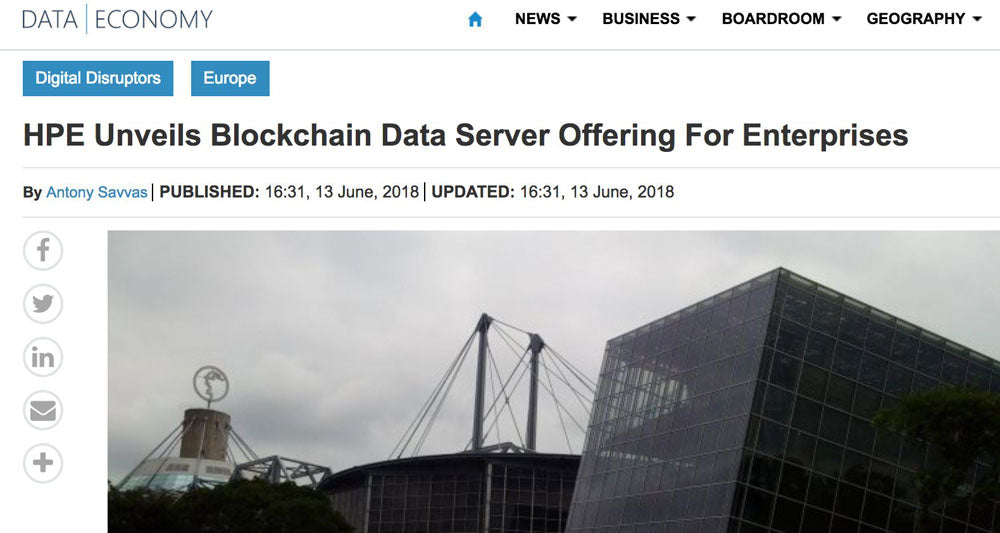 The company is partnering with another blockchain player to help organisations move to the 'next level' of blockchain use, stressing the technology's future and worth is far more wide-ranging than digital currencies.
HPE has jointly launched a cut-price server solution to help protect data communications across enterprises using blockchain. The ClearNODE ProLiant server line can act as a secure filter for blockchained messages between SoHo, SME and enterprise businesses.
The product launch here at CeBIT in Hannover, Germany offers a solution to deliver what HPE terms as blockchain 2.0 – companies transacting with companies, as opposed to blockchain 1.0 which sees people transacting with people. HPE is seeking to deliver what it calls the Internet of Value, with the exchange of information with the involvement of "no middleman".
The servers it has launched with blockchain partner ClearCenter cost between $1,000 and $6,000, with HPE confirming just a single server equipped with the ClearCenter software could be used to filter, check for data compliance and secure the blockchained messages being generated by organisations scaling up to the likes of Deutsche Bahn or Tesco.
Christian Reichenbach, solution strategist at HPE, said: "We believe that simplifying a complex technology will increase the rate of adoption that is key for successful, enterprise-wide deployment. The new ClearNODE product line simplifies and secures the deployment of blockchain nodes and decentralised apps (dapps) for private users, developers and businesses, all powered by HPE ProLiant servers."
HPE sees blockchain 3.0 as the next step in the evolution of blockchain technology where things will be transacting with everything using artificial intelligence and edge computing technology located outside central data centres.
Reichenbach said HPE's continued investment in blockchain solutions will focus on streamlining processes, removing steps and speed life-cycles; replacing complex legacy systems with automation; removing intermediaries from processes; and allowing "complete strangers" to engage in a transaction with the same set of facts and with complete trust.
He said dapps are a major turning point for deploying and using digital services and that HPE was dedicated to simplifying and securing dapp environments to encourage wider adoption. "Blockchain will continue to evolve and redefine enterprise applications and the way information is stored and transacted," he added.
HPE started its partnership with ClearCenter in June 2017, through the launch of ClearOS, a Linux-based operating system on HPE ProLiant servers. ClearOS has enabled customers to create a ready-to-use server at no additional cost with over 100 enterprise applications to choose from. HPE said: "A simple, web-based user interface and a built-in application marketplace has made IT deployments for SMBs simple, secure and economical. Now we are scaling up into larger-enterprise applications and harnessing the power of blockchain."
The ClearNODE line aims to make blockchain nodes and dapps both easy and secure to deploy. Michael Proper, CEO of ClearCenter, said: "Blockchain technologies face infrastructure, security and complexity problems, by combining hardware, software and services we can effectively address the issues and take blockchain to the next level."
Read the full article here.