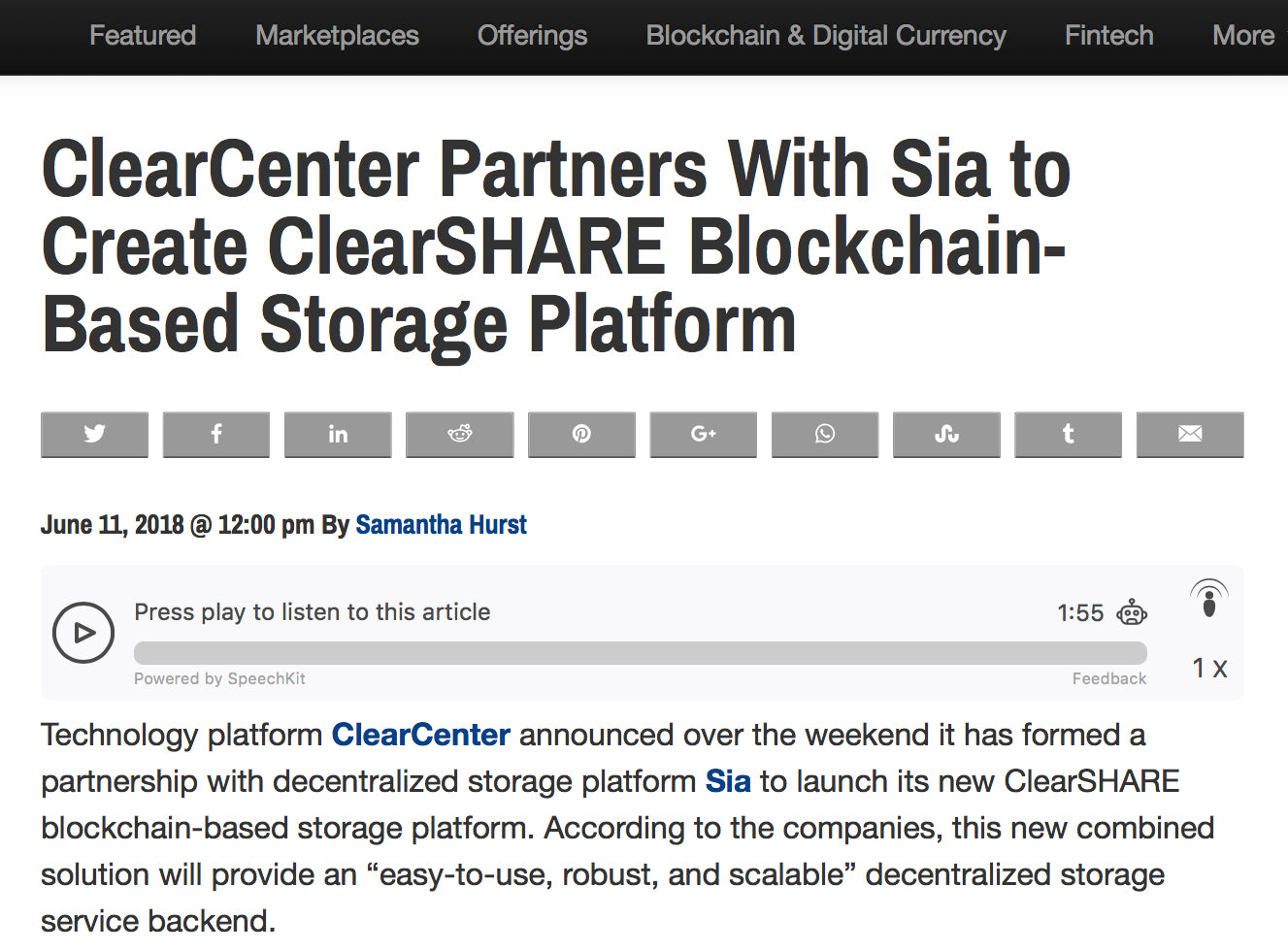 In an effort to create a decentralized storage platform for consumers, ClearCenter and Sia have decided to collaborate. This effort will be the start of ClearSHARE, which is secured with blockchain, giving consumers a secure storage layer for any user. Consumers that participate in this new project will be able to use their CLEAR tokesn within the ecosystem and with the product line coming from ClearNODE.
ClearNODE is from the Hewlett Packard Enterprise, offering a combinatioin of hardware, software, and services that will create a marketplace for consumers, developers, and applications. In a statement from David Vorick, who is Sia's Lead Developer, he said,
"Decentralized Cloud Storage brings huge benefits. We are excited that ClearSHARE will bring Sia to small businesses and enterprises with a user-friendly solution."
When ClearSHARE is established, they will also be able to combine the use of Sia's backend storage with the interface of Nextcloud. Both types of technology are build into the ClearOS operating system, which provides a turnkey storage platform that isn't reliant on the Linux command like that other platforms need. Furthermore, ClearSHARE intends to mimic the data on both the on-premise source and the global cloud network.
Each file will split, encrypt itself, and distribute customer files on the backend, though none of these tasks require IT skills to establish. The only person with the correct encryption keys is the customer, which means that they hold complete security over their content. The system acts the same as a Network Attached Storage (NAS) device with automatic mirroring, consistency, and minimal or no interruptions in service.
Customers can use the network for backup, but they also have the ability to earn CLEAR tokens by contributing their extra storage capacity. The CEO of ClearCenter, Michael Proper, has said.
Read the full article here.