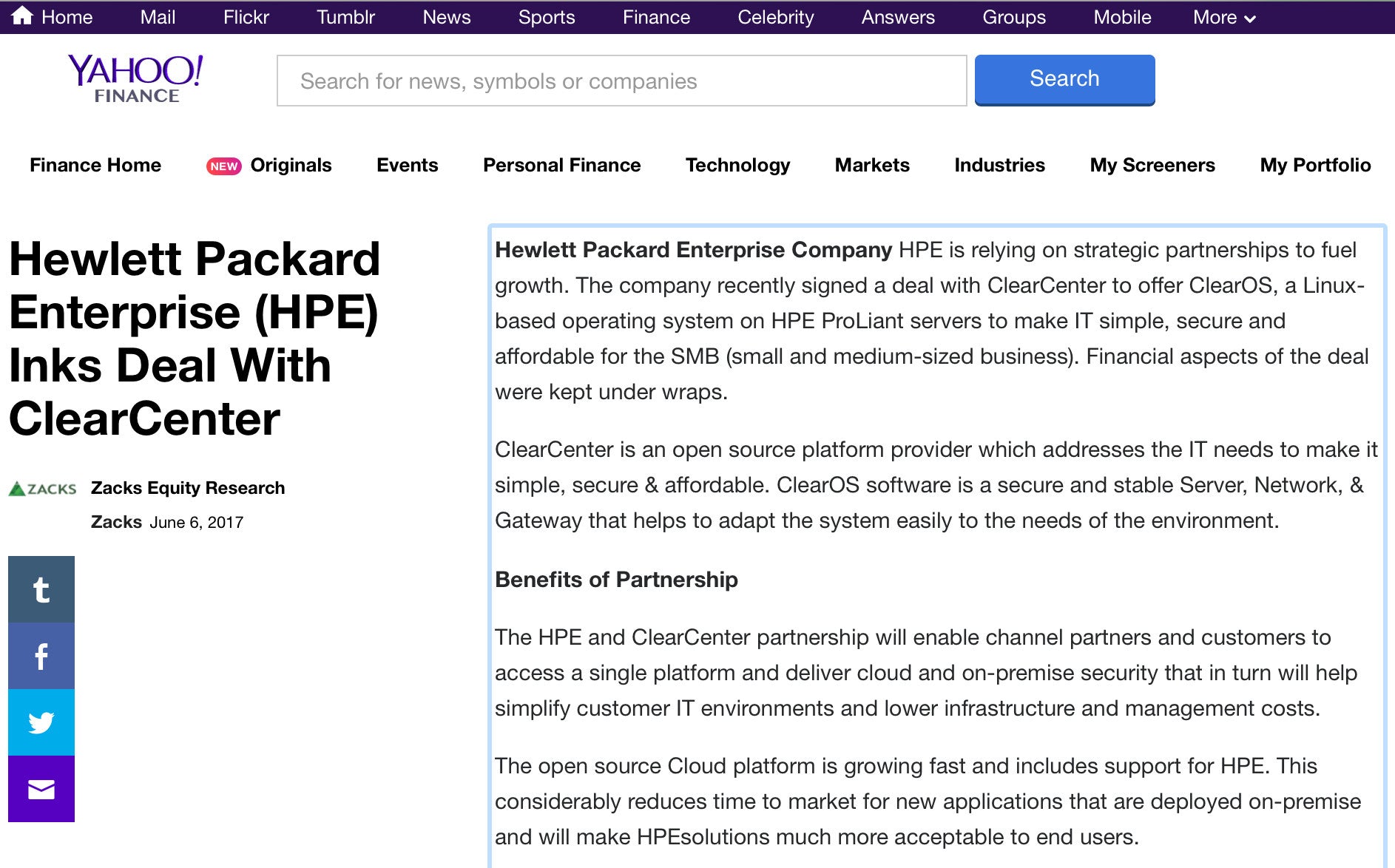 Hewlett Packard Enterprise Company HPE is relying on strategic partnerships to fuel growth. The company recently signed a deal with ClearCenter to offer ClearOS, a Linux-based operating system on HPE ProLiant servers to make IT simple, secure and affordable for the SMB (small and medium-sized business). Financial aspects of the deal were kept under wraps.
ClearCenter is an open source platform provider which addresses the IT needs to make it simple, secure & affordable. ClearOS software is a secure and stable Server, Network, & Gateway that helps to adapt the system easily to the needs of the environment.
Benefits of Partnership
The HPE and ClearCenter partnership will enable channel partners and customers to access a single platform and deliver cloud and on-premise security that in turn will help simplify customer IT environments and lower infrastructure and management costs.
The open source Cloud platform is growing fast and includes support for HPE. This considerably reduces time to market for new applications that are deployed on-premise and will make HPEsolutions much more acceptable to end users.
We believe that HPE's ability of innovating new products, entering into new collaboration and solutions, along with its existing product pipeline and strategic investments will enable the company to drive its top line over the long term.
Other Activities
In addition to the partnership, HPE also unveiled a new server for SMB customers which includes the ProLiant ML30 and ProLiant DL20 servers.
Last Words
Hewlett Packard Enterprise reported dismal fiscal second-quarter results, wherein the bottom line fell short of the Zacks Consensus Estimate and plunged year over year. The company's revenues also declined significantly on a year-over-year basis.
Shares of Hewlett Packard Enterprise have underperformed the Zacks categorized Computer-Integrated Systems industry over the past one year. The industry has declined 1.39% in the said time frame, while the stock fell 10.44%.
Also, macroeconomic challenges and tepid IT spending remain near-term concerns. Competition from International Business Machines IBM and Oracle ORCL further add to its woes.
We believe that HPE's massive restructuring moves will complement its focus on core businesses, and enable it to expand its share in the PC and Printing market. HPE's strategic divestments and initiatives to return value to shareholders in the form of dividend and share repurchases are positives.
Currently, HPE carries a Zacks Rank #3 (Hold). A better-ranked stock in the broader technology sector is Applied Materials, Inc. AMAT, sporting a Zacks Rank #1 (Strong Buy). You can see the complete list of today's Zacks #1 Rank stocks here.
Read full post here.