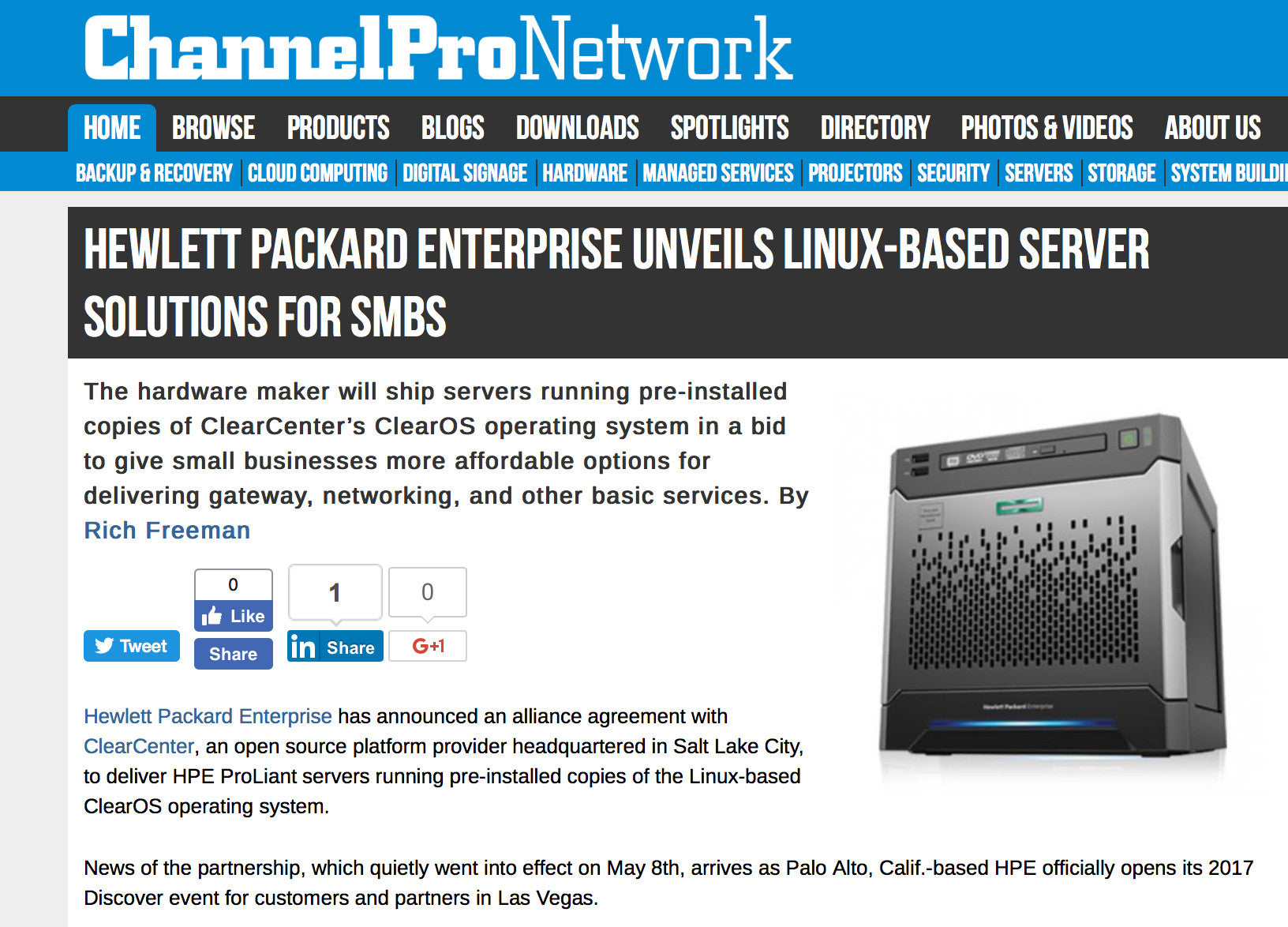 Hewlett Packard Enterprise has announced an alliance agreement with ClearCenter, an open source platform provider headquartered in Salt Lake City, to deliver HPE ProLiant servers running pre-installed copies of the Linux-based ClearOS operating system.
News of the partnership, which quietly went into effect on May 8th, arrives as Palo Alto, Calif.-based HPE officially opens its 2017 Discover event for customers and partners in Las Vegas.
The new Linux-bearing servers will target SMBs with hybrid cloud environments who need affordable alternatives to purpose-built appliances on the one hand and Microsoft Windows Server-based hardware on the other for performing gateway, networking, file serving, and other basic functions.
HPE servers running ClearOS, a free product with a graphical user interface, will be available for as little as $399. Channel pros can then buy and install compatible third-party software from the ClearOS application marketplace, which currently contains more than 140 products, to create fully configured solutions.
"We're giving the partner a Swiss army knife or a sandbox to really just make up and combine what they want to do on a server," says David Sung, director of SMB marketing at HPE.
That $399 entry-level price point applies to the HPE ProLiant MicroServer Gen10, one of four servers in an initial batch of ClearOS-based systems. HPE introduced the updated MicroServer in conjunction with the release of its new ProLiant Gen10 server portfolio today.
A compact, cube-shaped device small enough to fit on a desktop, the ProLiant MicroServer Gen10 features AMD Opteron APUs engineered for high-resolution workloads and dual DisplayPort connectors for operating side-by-side 4K displays simultaneously. It also supports up to 32 GB of memory and provides room for as many as 4 SATA hard drives, solid-state drives, or optical disk drives.
HPE will also pre-load ClearOS on refreshed editions of its ProLiant DL20 and ML30 servers. Among the last additions to the company's ProLiant Gen9 product family, those systems come with upgraded 7th Generation Intel Core (aka Kaby Lake) processors.
The ProLiant ML110 is HPE's fourth and final initial server pre-equipped with ClearOS. That device features processors from the Intel Xeon E5-2600 v4 and E5-1600 v3 lines.
All four ClearOS servers will ship later this month. HPE partners that wish to can also download and install ClearOS manually on any HPE ProLiant 10, 100, or 300 series rack or tower server immediately.
HPE will support the hardware portion of its ClearOS solutions. ClearCenter will provide support for the software to users with a support subscription. HPE partners can increase the value of ClearOS-related deals by including one of those subscription plans.
According to HPE, ClearOS-based devices are a complement to, rather than replacement for, servers running Microsoft's pricier Windows Server operating system. Users looking for a comparatively inexpensive way to provide specialized network services can use ClearOS hardware and then integrate those servers with the Windows-based devices in their Active Directory via Microsoft's Active Directory Connector.
Read full post here.