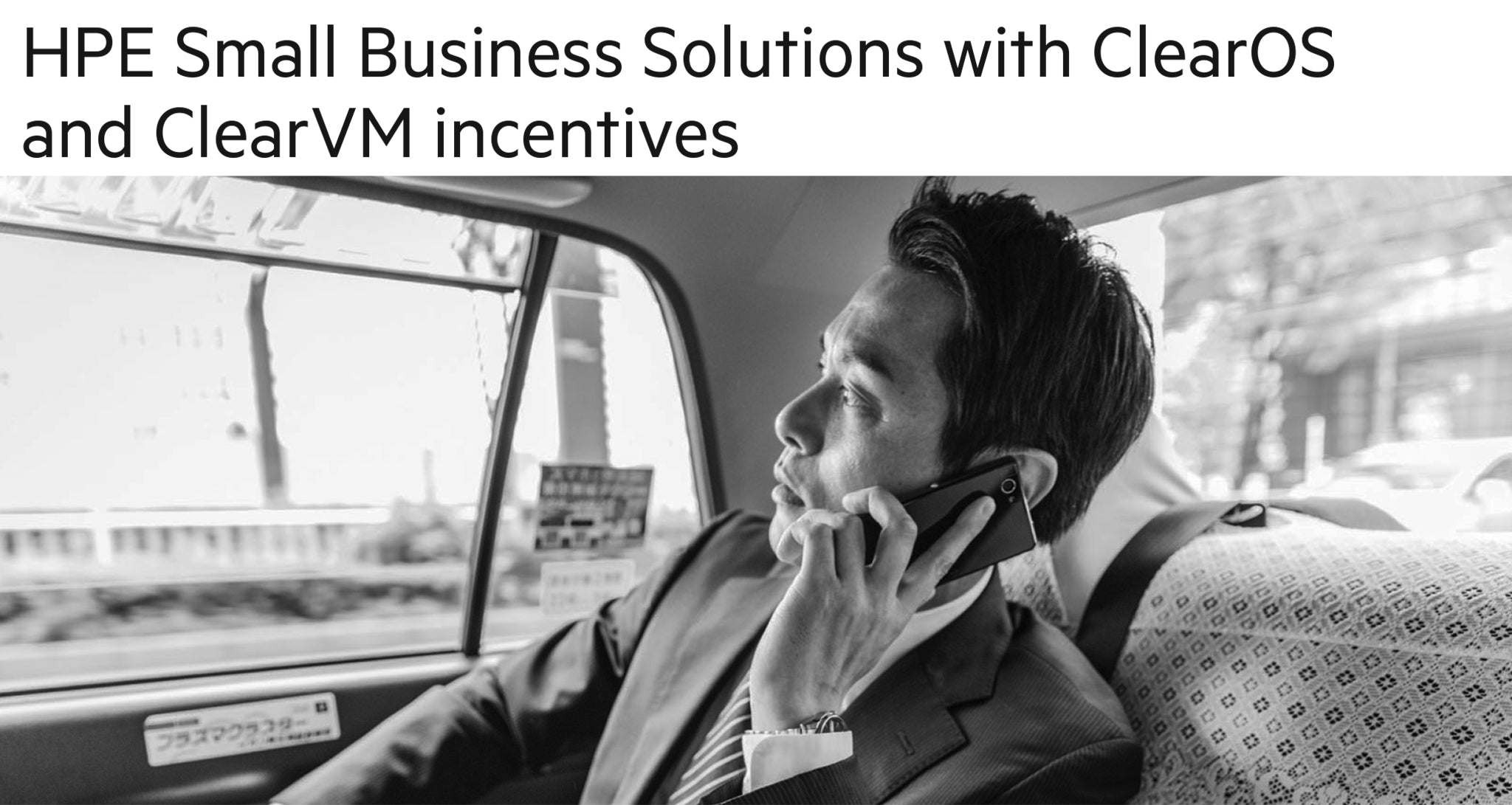 Until October 31, 2018 you can save on old server trade-ins and new HPE ProLiant hardware with ClearOS Bundles. See the original posting on the HPE Community Blogs for more information.
Looking for a secure server solution that will also give you a competitive edge? HPE Small Business Solutions are tested, optimized, and validated with ClearOS and ClearVM hypervisor, ready to handle your top workloads.
When you're running a small business, you've got a target on your back. That's because cyber criminals target small businesses and older systems that are often much easier to penetrate. And while most cyber breaches take less than 48 hours to accomplish, they go undetected for more than 100 days on average. During that time, criminals can do damage that costs an average of US$12 million.
A new server solution could help you gain a competitive edge—not to mention protect your business—but who has the time and money to spend figuring that out?  If the thought of looking up how to build a secure, workload-optimized server solution, spending all your time perusing QuickSpecs and IT message boards for configuration tips is appealing to you, you can go ahead and stop reading now.
If you're more the type who knows what your problem is and you want someone else to handle all those details, then look no further. HPE Small Business Solutions have the preconfigured solutions that include hardware, software, services, and top-selling HPE ProLiant options, ready to go for your top workloads. They're based on HPE ProLiant—the world's most secure industry-standard servers. And they're tested, optimized, and validated with the ClearOS™ operating system and ClearVM™ hypervisor. You can choose from:
 Unified Threat Management (UTM) with ClearOS

 

to protect data from network attacks, viruses, and phishing scams and filter out time-wasting apps, sites, and services.

Storage and Backup with ClearOS 

to 

empower your business with centralized storage and security, data protection, 24/7 availability, and optional HPE Secure Encryption.

Virtualization with ClearVM 

to optimize the budget by letting you virtualize legacy applications, make room for new applications, and run Microsoft® Windows® and Linux® on the same server.

Multi-function with ClearOS 

to run workloads and functions such as UTM, storage and backup, databases, reporting, web services, email, and much more on a single server.
These solutions are already simple, secure, and affordable. But right now, you can get even more savings with several limited time offers that turn "affordable" into downright unbeatable.
Read the flyer to find out how much you can save:  Secure, simple—and more affordable HPE Small Business Solutions with ClearOS and ClearVM incentives