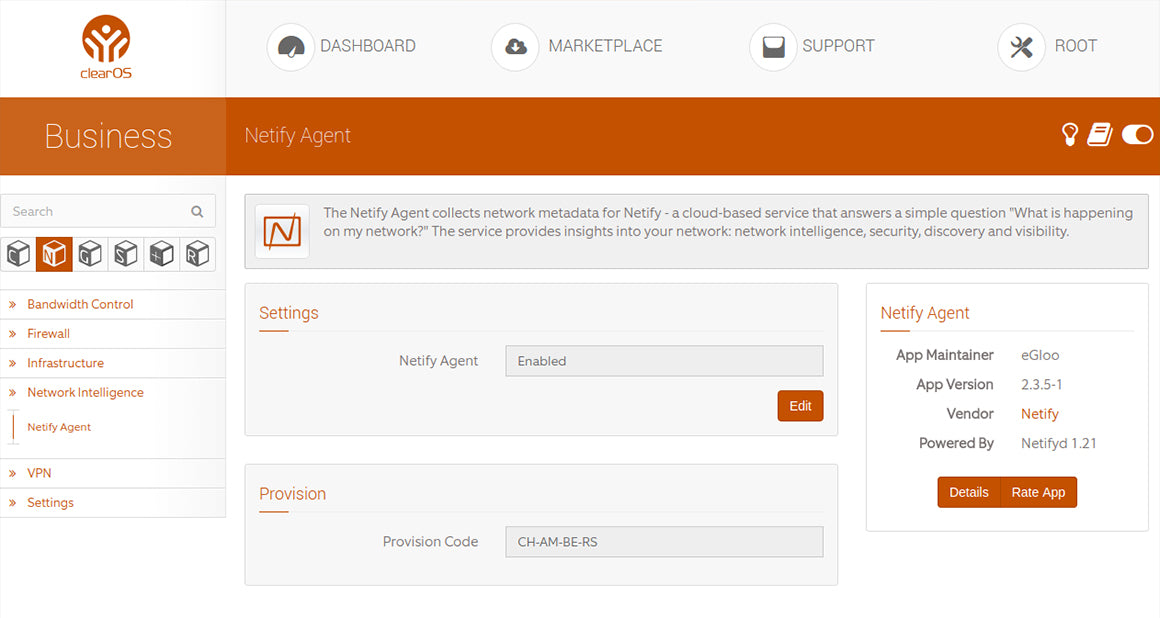 Anyone who manages IT resources for multiple users often ponders the question, "What is happening on my network?" 
Today, Canadian-based eGloo is happy to announce the launch of Netify for ClearOS Server.
If your organization deploys ClearOS Server as your firewall and gateway to the Internet, the new Netify app and cloud service provides complete network traffic visibility and analysis.
Netify provides network flow transparency and insights into the traffic generated by devices on your network. 
Designed for network administrators, company management or even parents to gain insight into the traffic flowing on their network, Netify's charts, tables and widgets shed light on what users and devices are doing on your network along with the power to control your network in compliance with organizational or individual policies.
It's strange to think that your ISP, DNS provider, Google, Facebook and online marketers may know more than you about the networked devices and traffic patterns inside your organization.  You likely have a more detailed report of your telephone calls than you do of your network and Internet traffic and yet traditional telephony has been dwarfed by Information Technology in terms of dependence, usage, security and importance.  Netify's features will flip this imbalance, enabling organizations to make better, data-driven decisions that impact:
- regulatory compliance

- cybersecurity

- human resources

- IT budgeting
Netify is designed to scale - whether you're a single organization with one location, a distributed enterprise with dozens of locations across the country or an MSP managing hundreds of clients, a single Netify account can intuitively guide you through the management, analytics and display of any number of networks.
Let's Get Technical
ClearOS Server users tend to lean on the technical side, so let's shift gears and get down to the details. Netify on ClearOS Server is open source code based on the nDPI library.  It is a Deep Packet Inspection engine that classifies and analyzes network flows in real-time. From there, Netify takes metadata and sends it to the cloud where infinitely more powerful analysis can be performed by integrating with 3rd party services, running Machine Learning models and normalizing the data to allow visual and tabular representations.  What kind of metadata? The Netify DPI library captures typical NetFlow data and much more:
- Application

- Protocol

- SSL cipher, SNI, Server CN etc.

- Hostnames

- Agent strings

- GeoIP

- Torrent hashes

- DHCP fingerprint
Netify is a cloud-based service, accessible via the client portal or integrated into another project/product using our RESTful API.  There's a native companion app for Android and iOS that we are actively seeking 'early adopters' to test and help direct our mobile roadmap.  The app is focused more on real time status and alerts, Machine Learning training, crowd sourced application definitions etc.
Privacy First
At every step of the Netify development cycle, we have your security and privacy in mind.
1. Deep Packet Inspection (DPI) sounds intrusive, but it's actually not.  Netify on ClearOS typically 'looks' inside only the first 5-10 packets of data.

2. DPI cannot decrypt your encrypted communications.  No SSL interception, no certificate deployment headaches, no breaking end-to-end encryption.

3. We encourage you to learn more about Netify's

privacy features

.
What's Free, What's Not?
The Netify agent is open source, licensed under the GPLv3 and the ClearOS Server Netify engine is a free app.  In fact, you may have already installed it - the ClearOS Server Application Filter and Protocol Filter apps (both free) are powered by the Netify core library.
The Netify cloud-based service for ClearOS Server is a paid subscription service, starting at  $25 (USD) per month.  Subscription levels can be found on Netify's pricing page.  A percentage of all revenue generated from the ClearOS Server ecosystem is shared with ClearCenter/ClearFoundation to further fund the development of ClearOS Server.
Getting Started
If you're running ClearOS as a gateway, you can be up and running in as little as 3 minutes.
1. Install the Netify app from within the ClearOS Marketplace on your ClearOS Server system and enable the Cloud connector

2. Create a Netify account

here

3. Provision your agent
For more information, please visit the Netify website or contact us at:
Email: hello@netify.ai 
Phone: +1-647-499-1551