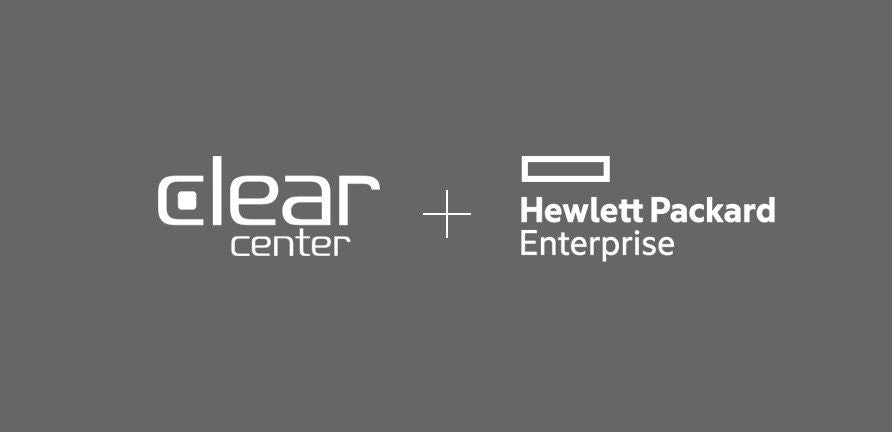 OREM, Utah — June 6, 2017 — ClearCenter today announced a partnership with Hewlett Packard Enterprise (HPE) that redefines the server by providing Small and Medium Businesses (SMB) with a preloaded simple, secure and affordable way to manage IT needs using ClearCenter's ClearOS and HPE ProLiant servers. 
ClearOS is a powerful Linux-based operating system tied to an app marketplace platform based on open source technology that offers IT departments an unprecedented level of simplicity, affordability, and security without compromise. Organizations of any size can use ClearOS to deploy a full suite of Server-layer features in addition to critical Network- and Gateway-layers for an organization's IT security and operations needs.
ClearOS now ships preloaded on HPE ProLiant MicroServer, ML110, ML30, and DL20 servers making these systems ready to use right out of the box. Current HPE Partners and customers can easily install ClearOS on all existing Gen 9 ProLiant servers thanks to ClearOS integration with the HPE Intelligent Provisioning tool. ClearOS can also be downloaded from www.ClearOS.com or www.HPE.com directly as of today.
"We have worked closely with HPE to redefine the server," said Michael Proper, CEO, ClearCenter. "In the past, ransomware protection, firewalls, traditional server features, content filtering and more required separate Server, Network, and Gateway hardware or software products from multiple vendors. With ClearOS and just one HPE server, all of those IT needs can be consolidated while also making those critical services more secure and easier to manage. Just plug power and network cables into your new HPE server, turn it on, and with just a few clicks you are protected."
The HPE and ClearCenter partnership allows HPE Partners and customers to quickly deploy IT services on a single server delivered as individual applications from the robust ClearOS Marketplace to help to meet customers' unique needs. Customers appreciate the freedom, scalability and flexibility to protect and manage an entire IT environment or install specific apps needed to fill gaps in an existing infrastructure.
"At HPE, we are committed to providing our SMB customers with simple, secure and cost-effective solutions that are easy to deploy," said Peter Schrady, senior vice president and general manager, ProLiant Servers, Hewlett Packard Enterprise. "Through our exclusive partnership with ClearCenter to deliver ClearOS, we will enable customers to create a ready-to-use server at no additional cost with more than 100 applications to choose from so businesses can build the IT solution that is just right for them."
About ClearCenter
ClearCenter offers a new way of delivering IT with its Hybrid IT operating system and app marketplace platform called ClearOS. ClearOS is an open source operating system for IT Server, Network and Gateway systems. It is designed for homes, small-to-medium size businesses, and distributed environments. ClearOS is a next-generation Small Business Server that includes critical Gateway and Networking security features. It delivers a powerful IT solution with an elegant user interface that is completely web based. ClearOS has more than 400,000 deployments serving more than 10 million users. It is available in more than 80 languages and being used in 154 countries around the globe today. ClearCenter is headquartered in Orem, Utah, and has additional offices in Canada, Taiwan, India, China and New Zealand. Visit www.clearcenter.com for more information.
About Hewlett Packard Enterprise
Hewlett Packard Enterprise is an industry leading technology company that enables customers to go further, faster. With the industry's most comprehensive portfolio, spanning the cloud to the data center to workplace applications, our technology and services help customers around the world make IT more efficient, more productive and more secure. Visit www.HPE.com to learn more. 
Press Contact for ClearCenter: David Politis, dpolitis@clearcenter.com, C: 801-556-8184,   W: 801-851-5555