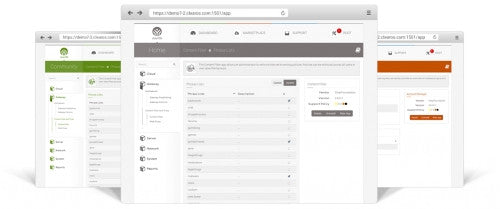 ClearOS 7 | Now Offered in 3 Editions:
With the upcoming release of ClearOS 7, there is a lot of market excitement for some of the recently announced features. We're grateful to you, our customers, and want to say thank you for choosing ClearOS. Coinciding with the availability of ClearOS 7, we'd like to inform you of some pricing and product changes that will take effect. There is a rising demand for ClearCenter to provide robust security threat protection, rapid & reliable ClearCARE technical support expertise, and time spent building, maintaining and integrating more applications than ever before. With this in mind we'd like to take this opportunity to share with you the updated pricing below. We understand that continuing to add value is the key to your continued benefit of ClearOS, and we've not been sitting idly by. Check out some of the new & exciting things coming to ClearOS 7:
New to ClearOS 7:
Samba 4, Directory (Microsoft® Active Directory Replacement)
New Google® Apps Connector
Updated Microsoft® Active Directory Connector (Included with Business Edition for up to 50 users)
IPv6 Ready
Streamlined Theme System
Dynamic Dashboard
Updated Antispam and Antivirus Engines
Updated IDS and IPS Engines
Event and Alert Notification Framework
Internationalization
XFS and BTRFS Filesystem Support
Improved VM Support, including Microsoft Hyper-V
Price Change Overview:
Subscriptions:
ClearOS 6 Professional, Lite Subscription → ClearOS 7 Business, Bronze Subscription ($108/yr)
ClearOS 6 Professional, Basic Subscription → ClearOS 7 Business, Silver Subscription ($388/yr)
ClearOS 6 Professional, Standard Subscription → ClearOS 7 Business, Gold Subscription ($588/yr)
ClearOS 6 Professional, Premium Subscription → ClearOS 7 Business, Platinum Subscription (Contact Sales for Pricing)
Apps:
Zarafa Community ($50/yr)
WPAD ($50/yr)
Roundcube Webmail ($25/yr)
Static IPsec VPN ($25/yr)
SMART Monitor ($25/yr)
Master / Slave Sync ($175/yr Community Edition) (Included on Business Edition)
Remote Configuration Backup ($10/yr) (Included on Business Edition)
How does this apply to the three software editions for ClearOS 7?
ClearOS 7 Community Edition continues to provide a free edition designed for those Linux Experts who don't mind getting under the hood to self-support and who participate in beta code testing. These users (like legacy Community releases) participate in bug fix testing and community feedback loops to help push forward future versions of ClearOS. With the release of ClearOS 7, the Community Edition will now have access to ALL ClearOS Marketplace apps, however free and paid apps alike will NOT include any professional support, and fall to the Community Forums for technical assistance. For those production users who may consider choosing ClearOS 7 Community for it's free price tag, but anticipate adding a paid app(s), you may want to consider ClearOS 7 Business Edition first, as many of those apps are included on the Business Edition and can quickly save you a lot of money! ClearOS 7 Home Edition is new to the ClearOS family and provides a valuable solution that includes all the necessary functions and value added services for deploying and maintaining a secure and stable home network. The Home Edition subscriptions include features historically out of reach for home budgets. ClearOS 7 Business Edition (designed for production environments) becomes the new flagship edition of ClearOS, providing maximum protection, reliability and assurance for Small Business Server users. This edition includes many paid apps available in the ClearOS Marketplace, which (when compared with al a carte pricing) means huge savings by choosing a Business subscription. ClearOS 7 Business subscription licenses are also offered in multi-year terms, which compound discounts, bringing total cost of ownership to comparable prices to version 6 subscriptions.