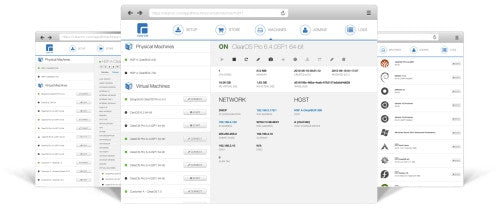 OREM, UTAH - ClearCenter today announced that it has launched a new product named ClearVM, which was built on recently acquired Witsbits technology. Witsbits, based in San Francisco, California and built on Red Hats KVM*, was started in 2011 and funded by Bootstrap Labs, Chalmers Innovation Fund and Redhawk Investments.
ClearVM removes the complexity of deploying and managing virtualization and IT infrastructure. ClearVM provides a next generation Virtual Machine (VM) platform built on Red Hat's KVM technology, which directly competes with products like VMware*, Citrix XenServer*, Oracle's VirtualBox* and Microsoft Hyper-V*. 
"ClearVM's virtual infrastructure technology is at the cutting edge of the next generation of simplified, scalable and centralized virtualization management," said Michael Proper, ClearCenter's CEO.
"ClearCenter has a great team with lot's of IT and business successes behind them and has collaborated enthusiastically with us since 2012," said Mikael Lirbank , Witsbits' founder and former CEO. "I, along with the entire Witsbits team, love working with ClearCenter to help change the way IT get's delivered. Together we will enable centralized management of both on premise and off premise VM's and applications while reducing time to deployment and maintenance of virtualization and app management to zero", he said.
ClearCenter will continue the operation of the Witsbits product under the new name, ClearVM, and plans to intensify the development of the product, including tight integration with ClearOS. Existing customers will continue to access their Witsbits-managed systems as before.
"ClearCenter is planning to combine it's ClearOS operating system with the new ClearVM Virtualization Management Platform, and intelligently compete in the centralized virtualization market through the Witsbits acquisition", Proper said.
"I am very excited about ClearCenter's plans for Witsbits and what it will mean in additional value for our existing and future customers. Witsbits' customers will continue to enjoy the product without interruption.", said Lirbank.
About ClearCenter
ClearCenter is redefining the way IT is delivered by helping to intelligently integrate open and closed technologies for small and distributed IT environments. ClearCenter provides award-winning products and solutions built for ClearOS consisting of applications, services, support, hardware, subscriptions, and now virtualization; many delivered by a next generation marketplace built for ClearOS. ClearOS is deployed in 300,000+ locations around the globe in 150+ Countries. ClearCenter has offices in New Zealand, Canada, India and the United States of America. Learn more about ClearCenter at www.clearcenter.com or more about ClearVM at www.clearvm.com.
* ® Marks and/or products belong to their respectful owners.