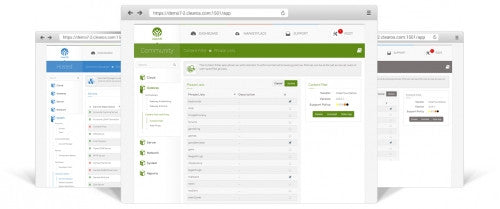 INTEROP LAS VEGAS, NEVADA — April 30, 2015 — ClearFoundation an open source foundation which is dedicated to Intelligently integrating and organizing open source technologies today announced the initial release of ClearOS 7 (download here) at Interop 2015 at the Mandalay Bay Convention Center in Las Vegas Nevada, United States of America.
ClearOS 7 is built from much of the same source code as Red Hat® Enterprise Linux 7®*, CentOS 7 and delivers a simple open source IT Operating System, focused on managing IT Layers such as the Gateway, Network, Server and more to come via the ClearOS Marketplace.
ClearOS 7 will be available as a single ISO/Image, and enable installations targeted for Home and Business environments, along with continuing to offer its free Community edition and will unveil an all new Hosted edition designed for hosting providers. Each edition will continue to offer on-demand Cloud Services and third party app integration.
ClearOS 7 provides a stable but dynamic operating system for both on-premise, off-premise, physical, virtual, private clouds and public clouds and a solid foundation for hybrid combinations. ClearOS is built to work with a new ClearCenter Product (yet to be released) called ClearVM, which will continue to simplify and innovate next-generation IT needs.
New ClearOS 7 Features Include:
Samba 4, Directory (Microsoft® Active Directory Replacement)
New Google® Apps Connector
Updated Microsoft Active Directory Connector
IPv6 Ready
Streamlined Theme System
Dynamic Dashboard
Updated Antispam and Antivirus Engines
Updated IDS and IPS Engines
Event and Alert Notification Framework
Internationalization
New Upstream Red Hat Enterprise Linux 7 Features Include:
XFS and BTRFS Filesystem Support
Improved VM Support, including Microsoft Hyper-V
Further, ClearOS 7 will be supported by ClearCenter's ClearCARE Support Team and new ClearCenter training and certification programs, featuring virtual courses and how-to videos. More details about the ClearOS 7 training and certification courses will be available soon and will be accessible here.
About ClearFoundation:
ClearFoundation helps to intelligently integrate open source technologies for IT environments. ClearOS is deployed in 300,000+ locations around the globe in 150+ Countries. ClearFoundation is based in New Zealand. Learn more at www.clearfoundation.com.
About ClearCenter:
ClearCenter is redefining the way IT is delivered by helping to intelligently integrate open and closed technologies for small or distributed IT environments. ClearCenter provides award-winning products and solutions built for ClearOS consisting of applications, services, support, hardware, subscriptions, and virtualization; many delivered by a next generation marketplace built for ClearOS. ClearOS is currently deployed in 300,000+ locations around the globe in 150+ Countries. ClearCenter has offices in New Zealand, Canada, India and the United States of America. Learn more about ClearCenter at www.clearcenter.com or more about ClearOS at www.clearos.com.
About Interop:
Interop is the leading independent IT industry event dedicated to providing technology professionals with the unbiased information they need to thrive as new technologies continue to transform the enterprise. Part of UBM Tech's family of global brands, Interop connects all levels of the IT community by showcasing the latest innovations and technologies while providing unique opportunities for networking and career advancement. Through in-depth educational programs, workshops, real-world demonstrations and live technology implementations in its unique InteropNet program, Interop provides the forum for attendees to experience the most powerful innovations and solutions the industry has to offer. Interop Las Vegas is the flagship event held each spring, with annual international events in India, London and Tokyo, all produced by UBM Tech and partners. For more information about these events, visit www.interop.com.
* ® Marks and/or products belong to their respectful owners.