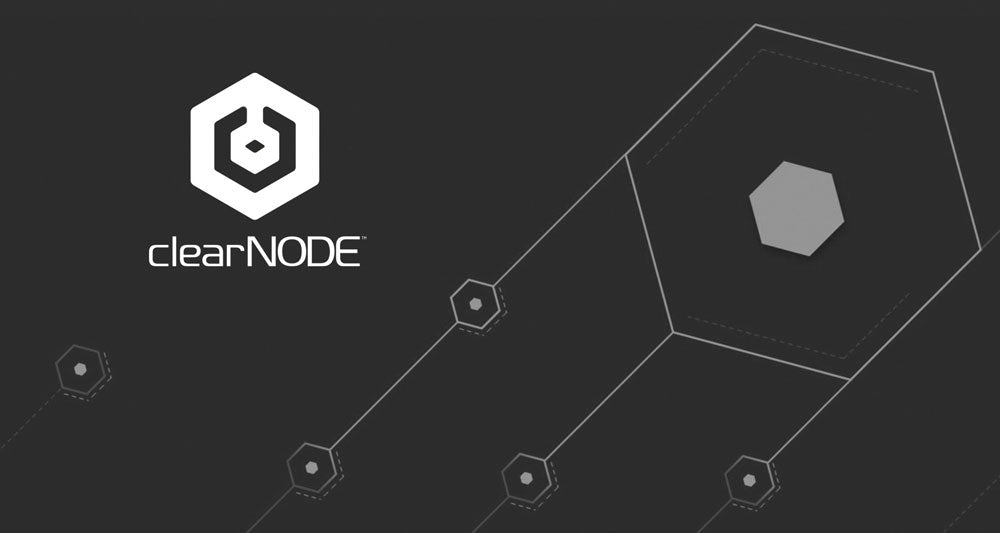 ClearNODE is the first platform created specifically to make Blockchain nodes and decentralized apps (dapps) both easy and secure to deploy.
CEBIT, HANNOVER, Germany - June 12, 2018 - ClearCenter today announced the release of its new ClearNODE product line which simplifies and secures the deployment of Blockchain nodes and decentralized apps – dapps – for private users, developers and businesses.
See the below video to watch ClearCenter Founder and CEO Michael Proper announce ClearNODE.

ClearNODE is an integrated software and security services solution that delivers the first fully managed, secure Blockchain platform and dapp marketplace. ClearNODE leverages Hewlett Packard Enterprise (HPE) ProLiant servers to run ClearOS, a Linux-based operating system, connected to the ClearOS Marketplace, and secured by the ClearGM security service.
Similar to a smartphone, ClearNODE is equipped with a pre-installed and managed access to the ClearOS dapp marketplace – but unlike smartphone apps, the dapps are run without middleman, by a decentralized network of ClearNODE nodes. Every user is also a potential provider and can earn money by running ClearNODE and providing unused storage capacity of his or her HPE ProLiant server to other ClearNODE users, for example.
ClearNODE provides unique value to private users, software developers and businesses:
Private users who own cryptocurrency are faced with the new challenge of protecting digital coins from theft by criminals across the world – ClearNODE's combination of secure hardware and software give digital wallet owners peace of mind.

Software developers now can easily create decentralized applications that run automatically across multiple nodes spanning the globe through ClearCenter's ClearOS Marketplace.

Businesses looking to leverage the benefits Blockchain-based technologies provide can safely deploy at any scale on ClearNODE's industry-first secure backbone infrastructure.
"Today's blockchain infrastructure is typically a mix of unsecured or dated servers, desktops and laptops, and that's a real security problem," said ClearCenter Founder & CEO Michael Proper. "We created ClearNODE as a four-tiered, secure solution that combines HPE ProLiant servers with ClearCenter's managed software and security services. As a result, we deliver a reliable, secure and dedicated platform and marketplace to users, developers and the Blockchain community, the first time a complete solution for Blockchain-based nodes and dapps has been made available."
Seamless and easy dapp development
In keeping with ClearCenter's open source focus, any software developer may submit a dapp for evaluation and potential inclusion in the ClearOS Marketplace following a short vetting process. ClearCenter plans to make secure dapp deployment just as seamless and easy as it is today for smartphone developers to publish apps in Apple's App Store for iOS or Google's Play Store for Android.
By publishing a dapp via the ClearOS Marketplace, developers automatically gain three key advantages:
Decreased development and deployment times due to open standards and ClearCenter's platform

Automatic access to thousands of decentralized nodes across the ClearCenter environment

The certainty of knowing their Dapp is running exclusively on secure nodes protected by the ClearNODE service and infrastructure
ClearCenter will also publish its own Blockchain-related apps and dapps in the ClearOS Marketplace. ClearCenter's first two applications on offer are ClearWALLET, a hybrid hardware/software wallet supporting multiple digital currencies, and ClearSHARE, a Blockchain-based shared storage service that automatically shards, encrypts, and distributes your files across a decentralized network.
"Dapps are a paradigm shift for deploying and using digital services, creating a wealth of new opportunities for private users, developers and businesses – however, current dapp environments are too complex and unsecure, preventing broad adoption," said Tim Peters, Vice President and General Manager, ProLiant Servers, HPE. "We are convinced that ClearNODE will bring the benefits of Blockchain-based services to the mass market by providing unprecedented levels of ease and security."
Security on four levels
HPE ProLiant Gen10 servers, the world's most secure industry standard servers, feature HPE's "silicon root of trust" technology, a unique link between the custom HPE silicon and the HPE Integrated Lights Out (iLO) firmware to ensure servers do not execute compromised firmware code – a foundational benefit  supporting the ClearNODE offers in leveraging this technology. The ClearGM managed service adds additional security layers to ClearNODE at the operating system, server, network, and gateway levels:
Firewall and unified threat management functions are fully managed and updated daily by ClearCenter to protect against external threats.
A zero-trust model for egress control protects against internal threats, phishing attempts, and malware by ensuring all outgoing requests are blocked at the network level.
DNS-based content filtering protects against inappropriate content and malicious websites.
Automatic whitelisting of services and websites is controlled by ClearGM's cloud-based machine learning system to provide a better end-user experience and provide seamless access to legitimate services.
ClearNODE will be unveiled at CEBIT, Hanover, Germany, June 12 to 15, in hall 12, booth D47.
Availability and pricing
ClearNODE is available for pre-order now starting at just $1,599.00 (USD). ClearNODE can be leveraged with many HPE ProLiant hardware options including the HPE ProLiant MicroServer Gen10, HPE ProLiant ML110 Gen 10 and the HPE ProLiant ML350 Gen10.
About ClearCenter
ClearCenter creates simple, secure and affordable products for managing Hybrid IT. ClearCenter's ClearOS is a Linux-based open source operating system for managing Cloud, Server, Network and Gateway layers. It is designed for homes, small-to-medium size businesses and distributed environments. Available in multiple languages and in use in 154 countries around the globe today, ClearOS has more than 450,000 deployments serving more than 10.4 million users. Visit https://www.ClearCenter.com for more information.
ClearCenter Press Contact:
David Politis, dpolitis@clearcenter.com , Mobile: +1-801-556-8184
HPE Press Contact:
Patrik Edlund, patrik.edlund@hpe.com , Mobile: +49 162 26 57 976