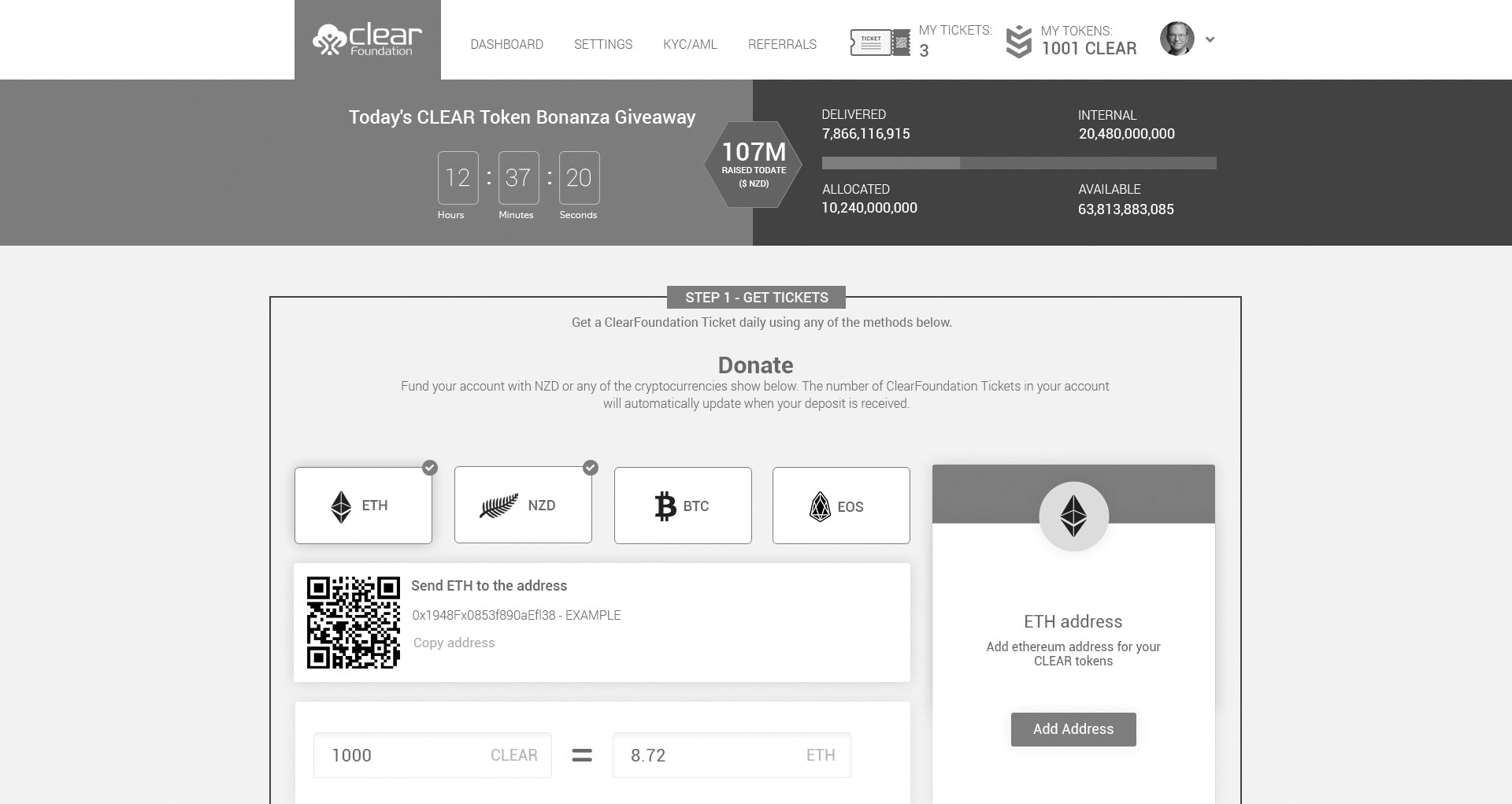 Click the "Daily Public Bonanza Giveaway" button on the ClearFoundation site to get an invite for the CLEAR Token Bonanza Giveaway.
ClearFoundation plans to distribute up to 10 million of its utility tokens daily over a five-year period. Each day, up to 10 million CLEAR Tokens will be allocated during a continuous, responsible and fair Public Bonanza Giveaway method. Additionally, half of all CLEAR Token proceeds will be dedicated to a natural and renewable energy asset-backed fund.
Wellington, New Zealand  —  July 4, 2018 — New Zealand-based ClearFoundation today announced that it has entered into the daily Public Bonanza Giveaway phase of an Initial Community Offering (ICO) for its CLEAR Token.
The term bonanza was popularized in the early days of the U.S. Wild West and came to represent a situation or event that creates a sudden increase in wealth or good fortune. ClearFoundation's daily CLEAR Token Public Bonanza Giveaway aims to level the playing field in Blockchain token offerings by providing a responsible and fair model in token allocation and deployment.
Over the next few weeks, ClearFoundation will publish additional information on the official rules of the Public Bonanza Giveaway and will provide invite-only Giveaway instructions for anyone who signs up for the Public Bonanza Giveaway program on the ClearFoundation website using the button at the top of the site's home page.
Starting July 4, 2018 (Independence Day in the United States of America), anyone can join the invitation pool by signing up on the ClearFoundation website to receive an official invite to register for the CLEAR Token Public Bonanza Giveaway program.
ClearFoundation also plans to offer a CLEAR Token bonus referral program and a CLEAR Drop program allowing anyone to earn free CLEAR Tokens by following social media channels.
Beginning August 1, 2018, invitations will be granted to participate in the daily CLEAR Token Public Bonanza Giveaway. Details will soon be released on the ClearFoundation website.
During each daily period of the giveaway, up to 10 million CLEAR Tokens will be distributed evenly to that day's Clear Token Ticket holders. For example, if there are 25 participants during one period, each of the 25 individuals receive an even split of that day's token allotment.
To participate in any specific giveaway period, an individual can qualify to receive a CLEAR Token Ticket using one of at least three methods:
Earn 100 ClearFoundation Community Points by engaging with the global

ClearFoundation Community

, or

Donate to ClearFoundation 0.1 ETH (or the equivalent in EOS, BTC, etc.) using the ClearFoundation Portal, or

Purchase a

ClearNODE

system.
See the 2 images below for examples of the coming ClearFoundation Ticket user interface. A full preview of the CLEAR Token Bonanza Giveaway site is at the bottom of this post.
ClearFoundation may in the future expand the Public Bonanza Giveaway to offer additional methods of receiving ClearFoundation Tickets for entry into the daily program.
ClearCenter will provide a process in which CLEAR Tokens can be converted to ClearCenter credits and used to purchase select hardware, software and services through ClearCenter including the Home Edition of ClearNODE.
See the image below for an example showing a ClearFoundation Ticket. A full preview of the CLEAR Token Bonanza Giveaway site is at the bottom of this post.
ClearFoundation and ClearCenter Vision
Harnessing the experience and expertise gained over the last nine years spent building IT tools and services, ClearFoundation team members realized the current state of infrastructure for Blockchain-related technologies is disparate, unreliable and overly complex.
To solve the problem, the ClearFoundation CLEAR Token and the ClearCenter ClearNODE product line have been created to jointly enable a Platform and Marketplace that make Blockchain nodes, digital currencies and Decentralized Applications (Dapps) easy-to-use, reliable and secure.
Fifty percent of the proceeds from the ClearFoundation CLEAR Token ICO (Initial Community Offering) will be issued under a mandate from ClearFoundation to form and tokenize a natural and renewable, energy asset-backed Responsibility Endowment allowing the ClearFoundation to continue to build, promote, and defend Blockchain-based and open source technologies in perpetuity and help to create one of the first true crypto assets.
The remaining 50 percent of ICO proceeds will fund the expansion of ClearFoundation's Blockchain Platform and Dapp Marketplace made available through ClearFoundation's commercialization partner, ClearCenter, via ClearCenter's Blockchain-based ClearNODE product line of managed hardware, software, and services (including the ClearSHARE app and ClearGM security service).
ClearFoundation, ClearCenter and Partners Building the Future of Blockchain
ClearFoundation and ClearCenter have partnered with industry leaders across multiple sectors to create the first holistic solution that offers true end-to-end protection for networks, servers, digital currencies, devices, individuals and families.
Partners include Hewlett Packard Enterprise (HPE) for secure server hardware and Sia for a decentralized storage platform. Future partnerships are underway to intelligently integrate other key features such as permanente digital identity/authentication and artificial intelligence-based cybersecurity.
A key component of ClearFoundation's and ClearCenter's Blockchain security solution comes from a partnership with HPE in which select HPE ProLiant servers now ship preloaded with ClearOS. HPE ProLiant servers feature a unique Silicon Root of Trust layer technology that protects servers from firmware hacks. In addition, ClearFoundation and ClearCenter add multiple layers of operating system and security services to create an infrastructure, Platform and Dapp Marketplace providing fully secure solutions.
ClearFoundation is seeking to be a leader of foundational thought around of how distributed technologies and renewable energy sources are responsibly built, deployed and maintained. ClearFoundation will accomplish this by continuing its mission to bring affordable and open source enterprise-grade technologies to the masses and also by combining technologies and energy in new ways over the coming years.
ClearFoundation and ClearCenter have a long-term vision for the future of Blockchain-based technologies and are building products and services in ways that both benefit mankind and are environmentally friendly. While other Blockchain-based systems function on a Proof of Work model, CLEAR Token-based tools will feature a Proof of Space model. Proof of Work-based Blockchains are incredibly inefficient and require overutilization of the computer or server resources running each Blockchain node and waste large amounts of electrical power in the process.
"One of the main motivations in creating CLEAR Token is our desire to help shift away from the energy-heavy consumption constraints of the Proof of Work model to a form of token mining or farming that is environmentally friendly," said Michael Proper, ClearFoundation Chairman and ClearCenter Founder & CEO. "ClearFoundation will use an alternative model that conserves both environmental and compute resources while helping to enable future innovation."
ClearFoundation and ClearCenter's key focus area is around enabling new types of applications called Decentralized Apps (Dapps) that bring the promise of ensuring trustworthy data transactions, increasing security, and improving privacy while eliminating the need for traditional centralized app deployment models.
ClearFoundation and ClearCenter's solution enables other promising new Dapps spanning multiple industries including healthcare, banking and insurance to name just a few. For example, in the healthcare industry, patient consent and right to privacy are paramount. A holistic and Blockchain-based solution for the first time in history enables a secure, private, and immutable method for patients to maintain control over personal information and health claims data.
About ClearNODE
A key component of the CLEAR Token offering is the ClearNODE product line of managed hardware, software and security services. ClearNODE simplifies and secures the deployment of Blockchain nodes and Dapps for private users, developers and businesses.
ClearNODE is an integrated software and security services solution that delivers the first fully managed, secure Blockchain platform and dapp marketplace. ClearNODE leverages Hewlett Packard Enterprise (HPE) ProLiant servers to run ClearOS, a Linux-based operating system, connected to the ClearOS Marketplace, and secured by the ClearGM security service.
ClearCenter and HPE recently launched ClearNODE on June 12, 2018 at the CEBIT show in Hannover, Germany.
ClearFoundation and ClearCenter Background Relationship
ClearFoundation was formed in 2009 in New Zealand as an organization focused on managing and developing the source code and repository of ClearOS, an open source Linux-based operating system. ClearCenter was also formed in 2009 and is headquartered in Orem, Utah. ClearCenter is focused on commercializing ClearOS and other open source applications and services, whether developed by the company or by members of the open source community.
ClearCenter is now one of the leading independent providers of open source software and IT management services on the planet.
Specifically, ClearCenter software/services now:
Have over 430,000 deployments

Support over 10.3 million users worldwide

Feature more than 110 unique open source applications/services available through the ClearOS Marketplace (its app store).
In June 2017 ClearCenter announced it had entered into an exclusive worldwide partnership with HPE whereby ClearOS would begin to be pre-installed on HPE's ProLiant servers. Then in November 2017, ClearCenter announced its acquisition of Austria-based Minebox IT Services, one of the leading Blockchain providers of decentralized cloud-based storage solutions.
About ClearFoundation
ClearFoundation is a New Zealand organization which was created in 2009 with the purpose of developing and maintaining ClearOS under a Simple, Secure, and Affordable open source model. The foundation exists to ensure that every small business and distributed IT environment on the globe can have access to enterprise-grade IT security, privacy, filtration, and management tools. Visit http://clearfoundation.co.nz for more information.
About ClearCenter
ClearCenter creates simple, secure and affordable products for managing Hybrid IT. ClearCenter's ClearOS is a Linux-based open source operating system for managing Cloud, Server, Network and Gateway layers. It is designed for homes, small-to-medium size businesses and distributed environments. Available in multiple languages and in use in 154 countries around the globe today, ClearOS has more than 430,000 deployments serving more than 10.4 million users. Visit https://www.clearcenter.com for more information.
Press Contact:
David Politis, dpolitis@clearcenter.com, C: 801-556-8184
See a preview of the  CLEAR Token Bonanza Giveaway site below.