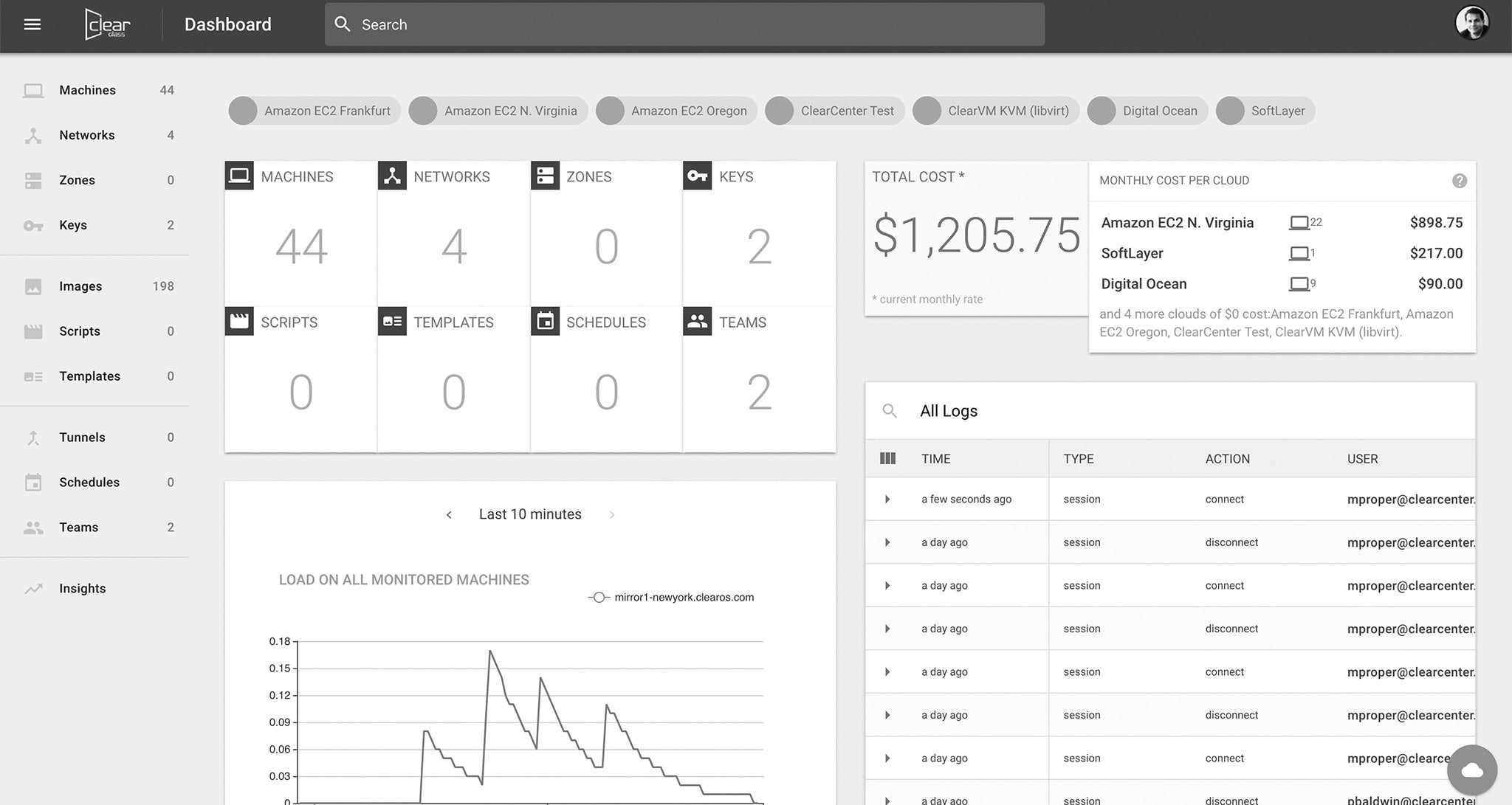 We are pleased to announce the release of ClearGLASS, a new ClearOS application and service that is destined to become one of the tentpole ClearOS Marketplace apps.
Be sure to check out the ClearGLASS introduction and demo video at the bottom of this post.
The free Community Edition of ClearGLASS is now live in the ClearOS Marketplace and ready as the Release Candidate 1 version. That means that if installed, it will be update-able moving forward. The Business Edition of ClearGLASS is in closed beta starting today and will be fully released before the end of Q2 2018. See the bottom section of this post for more information on joining the ClearGLASS Business closed beta.
Track this ClearOS forum post for updates and more information.
Using ClearGLASS you can securely and privately manage cloud resources from multiple providers, on-premises servers, Blockchain nodes, or decentralized IT infrastructure at any scale from a single management plane.
ClearGLASS supports more than 20 third-party providers and services including AWS, Azure, Docker Cloud, Rackspace, Linode and more.
If your organization maintains a mix of on-premises servers, off-premises servers, Blockchain nodes, virtual machines, containers or public/private cloud resources then you know just how difficult it is to juggle all of these IT assets especially when trying to optimize management and usage across technologies and infrastructure.
ClearGLASS solves this problem by providing orchestration, role-based access control, monitoring, alerts, security, visibility and control to make it easier to manage heterogeneous infrastructure all from within one console.
ClearGLASS also gives you insight into total costs spanning multiple cloud services and info on under-utilized resources allowing you to tell in realtime if your costs are exceeding the benefits to your IT infrastructure.
Using the advanced orchestration features of ClearGLASS you can easily spin up hundreds of resources, apps, or nodes on demand in order to meet your organizational needs.
ClearGLASS Community is ideal for personal projects and small teams with a DIY approach while ClearGLASS Business is ideal for Managed Service Providers (MSPs), large-scale Blockchain orchestration or SMB to enterprise size teams with advanced needs around automation, orchestration and role-based access control.

ClearGLASS Community Features Compared to ClearGLASS Business:
ClearGLASS Community Features Include
ClearGLASS Business Includes 

Management for unlimited clouds & machines
Unlimited users & teams
Script & Key management
Scheduled actions
Monitoring and alerts
Web shell
Webconfig tie-in management
REST API
Audit logs
Community Support via ClearOS Community Forums

All Features from ClearGLASS Community Plus


Role-based Access Control for Teams
Granular Provisioning
Cost Insights and Differentiation Across Multiple Cloud Services
Under-utilized resource Insights
Advanced Orchestration and Automation
Professional Support
ClearGLASS Business Beta Program
Interested in joining the ClearGLASS Business beta program? Visit http://www.clear.glass/pricing.html and click the "Sign up for beta" button in the right column. Just enter your contact info and soon someone will contact you to go over the beta program which includes 3 options:
Install ClearGLASS Community today via the ClearOS Marketplace then upgrade in place to ClearGLASS Business when available.
Request a test account on ClearCenter's ClearGLASS Business Beta demo environment (with this options, there is no need to stand up your own ClearOS system in order to evaluate ClearGLASS Business).
Install the ClearGLASS Business beta inside your ClearOS test environment (this option may require wiping your test environment and starting over with a new system once ClearGLASS Business reaches the release candidate stage.) 
Watch ClearCenter's David Loper and Blaine Raddon give a hands-on demo of the ClearGLASS interface and its main features.
Below are a few screenshots from the ClearGLASS management interface. Check out clear.glass to learn more.