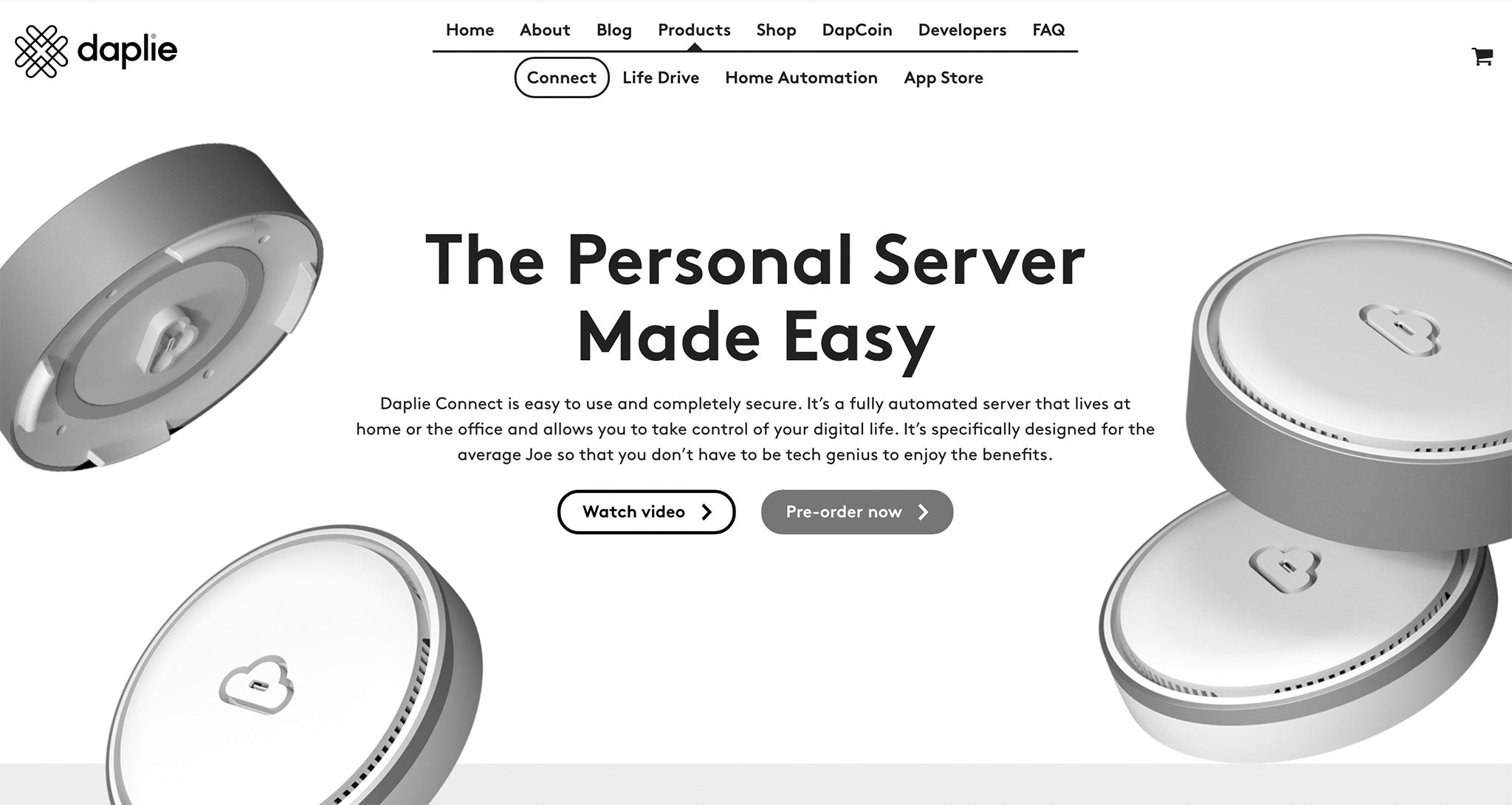 Press Release: Two Utah tech companies — ClearCenter and Daplie — have joined forces to lay the foundations for a Web 3.0 ecosystem with a shared vision where decentralized products and services can empower consumers to take control of their digital experiences.
The result will combine ClearCenter's ClearOS™ (a secure open source operating system developed over 17 years) with Daplie Connect™ (an innovative plug-and-play decentralized home server). The coupling of ClearOS' advanced server, network, and gateway with Daplie's peer-to-peer technologies empower a platform for the next internet, an internet accessible to everyone, everywhere.
"We are excited to partner with Daplie to help create solutions for the home and the consumer market," said Michael Proper, ClearCenter Founder and CEO. "Both companies are firm believers in the promise that Web 3.0 will be built upon a bedrock of decentralization, privacy, and security while giving control over data back to end-users."
This Web 3.0 ecosystem will leverage a built-in marketplace to take the guesswork out of finding and installing high quality Dapps (decentralized applications), currently a time-consuming and frustrating experience. Users will be able to access an ever-growing library of Dapps and find more secure and private alternatives to centralized apps and services they use on their phones. The Daplie Connect home server will then act as a hub, allowing consumers to access applications (and other digital assets) from any connected device, anywhere in the world.
"This partnership is really a glimpse into the future," says Bryson Hill, Founder and CEO of Daplie. "Fortune 500 companies are already integrating blockchain tech into their businesses, and in a few years it will be a centerpiece in the home: from phones, smart devices, energy, and beyond. Daplie and ClearCenter are the first to bring together the right pieces to build the next evolution of the Web as we know it."
While ClearCenter's partnership with Daplie will allow them to reach a new mass consumer market, ClearCenter has already established a business case for the blockchain as the commercialization partner for New Zealand-based ClearFoundation™. ClearFoundation recently launched an Initial Token Offering (ITO) for a utility token called CLEAR that is focused on building a secure and reliable platform for delivering Blockchain-based products, services and applications via the ClearOS Marketplace. Learn more at clearfoundation.co.nz.
Daplie will launch its own token sale on April 19, 2018 for DapCoin (DAP), a utility token for publishing, purchasing and reviewing Dapps within the consumer-facing DapStore. Additionally, the token will offer a way for Connect users to update their devices through the blockchain without requiring or allowing any third-party access (including Daplie). Learn more about the token sale at dapcoin.com.
Daplie Connect will also come with a host of added product features, including secure private key management with built-in hot and cold storage wallets for cryptocurrencies, secure file management, patented stackable storage (up to 20 TB), plus the ability to add additional storage through two onboard USB ports. Daplie is currently taking pre-orders for Connect home servers pre-loaded with ClearOS through daplie.com; these systems are expected to ship later this year.
About ClearCenter
ClearCenter creates simple, secure and affordable products for managing Hybrid IT. ClearCenter's ClearOS is a Linux-based open source operating system for managing Cloud, Server, Network and Gateway layers. It is designed for homes, small-to-medium size businesses and distributed environments. ClearOS has more than 450,000 deployments serving more than 10.4 million users. It is available in multiple languages and being used in 154 countries around the globe today. Visit clearcenter.com for more information.
About Daplie
Daplie creates hardware that empowers individuals to take back control of their digital lives. The plug-and-play decentralized home server — Connect™ — sits at the center of this ecosystem and features fee-free storage and sharing, built-in hot and cold storage wallets for cryptocurrencies, and secure data access from anywhere and from any connected device. Visit daplie.com and dapcoin.com to learn more.
Clear Center Press Contact:
David Politis
(801) 556-8184
dpolitis@clearcenter.com
Daplie Press Contact:
Greg DeLong
(801) 471-3534
greg@daplie.com