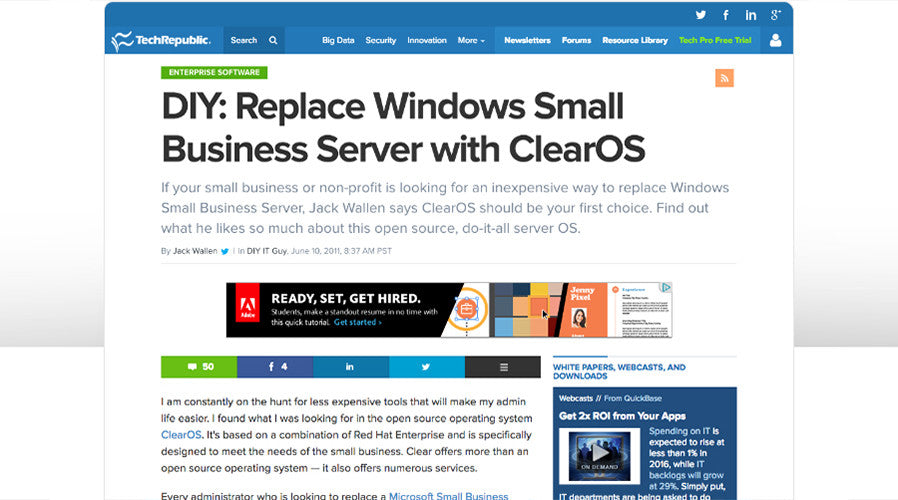 If your small business or non-profit is looking for an inexpensive way to replace Windows Small Business Server, Jack Wallen says ClearOS should be your first choice. Find out what he likes so much about this open source, do-it-all server OS.
I am constantly on the hunt for less expensive tools that will make my admin life easier. I found what I was looking for in the open source operating system ClearOS. It's based on a combination of Red Hat Enterprise and is specifically designed to meet the needs of the small business. Clear offers more than an open source operating system — it also offers numerous services.
Every administrator who is looking to replace a Microsoft Small Business Server and is on a very tight budget needs ClearOS. Why? Because with Clear OS, you get the following:
What separates ClearOS from the competition?
Administrators know that managing all of the above services can be quite time-consuming. ClearOS solves this problem by using a web interface for all of the server management. The web-based administration panel is incredibly easy to use (Figure A), and everything you need to configure on your sever is at your fingertips. From users to LDAP to security to web server, you name it — it's in the administration panel. Every service can easily be stopped, started, and configured all in one location. Figure A
Even LDAP is simple to configure using ClearOS. (Click the image to enlarge.)
Installing ClearOS
If you have ever installed an operating system, you should not have any problems installing ClearOS. Although the installation is based on the same installer that CentOS uses (so it is an ncurses installation), it is incredibly simple and can be installed in less than a half hour, (depending on how many services are being installed).
During the installation, you can choose what you want installed. For instance, if LDAP or a print server isn't necessary, you don't have to install those services. Or, you can go all out and install everything, effectively winding up with the equivalent of a Microsoft Small Business Server — with a few extras.
There are two different types of installations: Gateway and Standalone. If you plan on using ClearOS as a firewall and a gateway for other hosts, you should select the Gateway installation. If you choose this route, the machine must have two network cards (internal and external).
The installation does not offer a live version; however, there is a live demo you can log onto and play around on. If you want to try ClearOS before you install it, hop on over to the ClearOS Demo Server and use the following credentials to log in:
user: get
password: clear
This will allow you to take every service configuration available on ClearOS for a spin. Every service on the machine can be controlled from the same screen by going to System | Resources | Services and then clicking the Configure icon for the service to be configured (
Figure B
).
Figure B
In the demo, you cannot get into all of the configuration options available. (Click the image to enlarge.)
If watching the demo doesn't help you make a decision about whether to deploy ClearOS, I highly recommend downloading the ISO and installing it within a virtual machine (such as VirtualBox). When you do take the installation route, here are the steps you'll follow:
Download and burn the ISO.
Boot the ISO.
Walk through the ncurses based installation.
When installation is complete, reboot.
Walk through the GUI installation last steps.
Log in to the ClearOS install from another machine (via web browser).
Complete configuration.
If you're testing within a virtual machine, it is important to make sure to set the networking adapter up to use Bridged network, or else you won't be able to reach the installation from outside the virtual machine. If you cannot reach the virtual installation, the setup will have to be completed within the virtual machine, which is not always ideal.
Once the installation is complete, the ClearOS installation can be joined to a domain and even become the domain controller (use this with caution because you could cripple a windows network).
Member feedback
If you have installed ClearOS, what are your thoughts about this open source server OS? Share your feedback with the TechRepublic community.
see original article
here
.