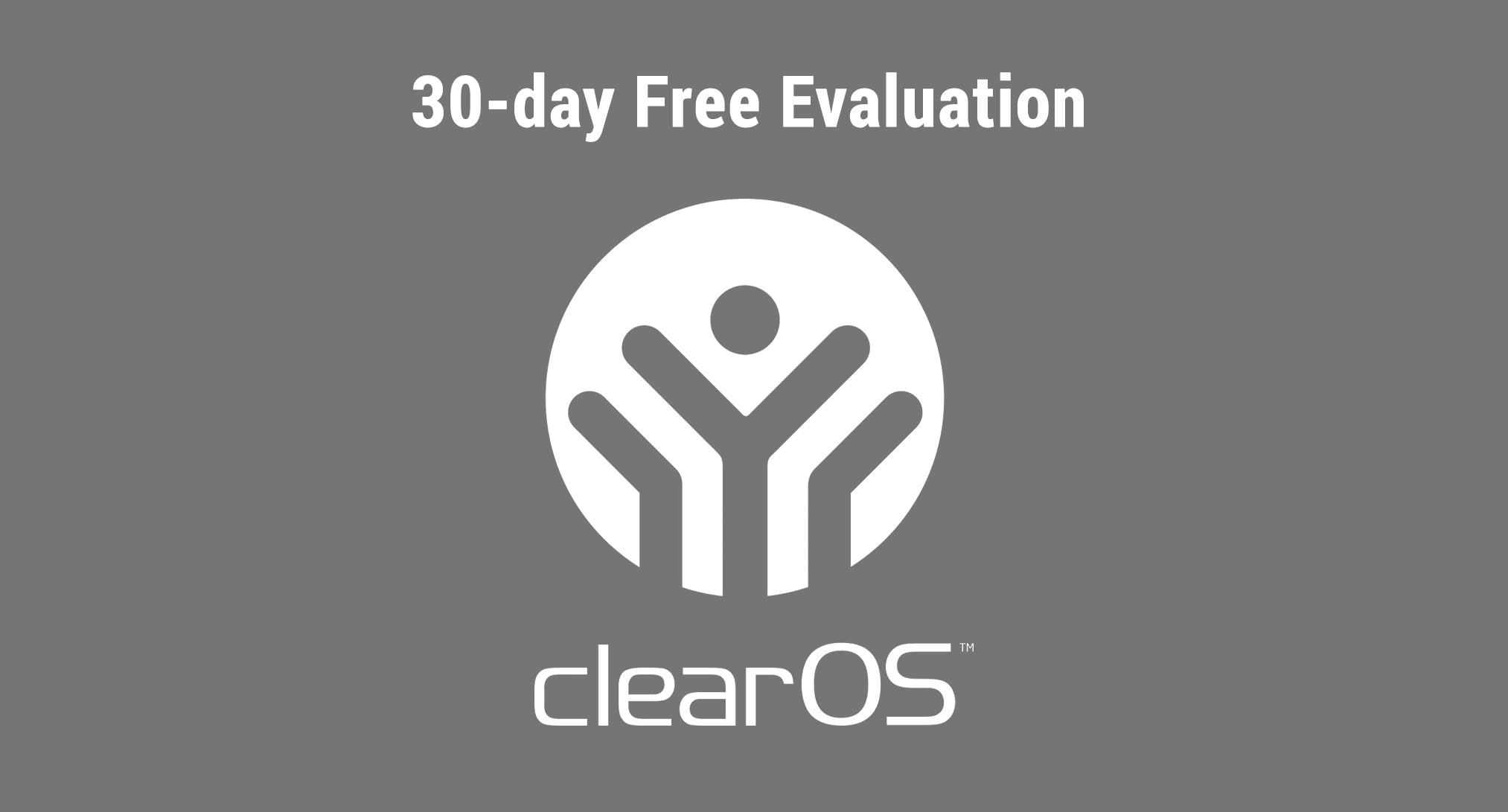 Did you know you can try the Business Edition of ClearOS completely free for 30 days? Read on to learn the exact process to quickly install ClearOS and register to try it free for 30 days — no credit card required.
A Quick ClearOS Install Overview
If you are new to the ClearOS installation process, below is a quick overview of the 5 basic steps.
Note on Skipping Step 1: if you plan to use ClearOS on a Hewlett Packard Enterprise (HPE) ProLiant server that came preloaded with ClearOS or an HPE ProLiant server that included a ClearOS USB thumbdrive in the box, you can skip step 1 below. See the HPE Configuration ClearOS Guide for a complete set of instructions.
Step 1: Create Bootable Media
Before you can install ClearOS you first will need to download a ClearOS ISO image then create a bootable USB thumbdrive.
To find the correct ISO, visit the Download ClearOS Today page and click the download button on the ClearOS 7.x Business Edition line in the Final Release Downloads section.
Vist the ClearOS USB Installer page for information on creating a bootable USB drive.
Step 2: Starting the Install
To get started installing ClearOS you must boot your server from the USB drive created in Step 1 above. Read the Starting the Install page for information on booting the server and what to expect from the ClearOS boot screen.
Note: for Steps 2, 3 and 4 you'll need a monitor and keyboard connected to your server.
Step 3: Installation of ClearOS (the Install Wizard)
The Installation of ClearOS page will cover the basics of the ClearOS Install Wizard. After completing the Install Wizard steps, you will see a confirmation prompting you to reboot the server.
Step 4: Network Console
Upon reboot, you'll see the Network Console screen. Read the Network Console page for a full list of instructions. As soon as your networking is setup you can then access the full ClearOS user interface (called the ClearOS Webconfig) from any device with a web browser. You no longer will need a monitor or keyboard connected to your server as it can now be controlled in a headless fashion. Remember to use https and add port 81 to the end of your server's IP address (for example, https://10.1.1.2:81).
Step 5: First Boot Configuration Wizard (via Webconfig)
Use a web browser on any device connected to the same LAN as your server to access the ClearOS Webconfig (remote access via SSH or Dynamic DNS is possible after initial setup).
Upon first login to the ClearOS Webconfig, you'll be walked through the final configuration and registration steps. Make sure to read the First Boot Configuration Wizard page to learn more and know what to expect. After completing the setup, you can access the regular ClearOS interface (ClearOS Webconfig) to interact with ClearOS and its features. Make sure to check out all of the ClearOS Marketplace apps in the Marketplace section of the Webconfig.
Picking the 30-day Trial Option
You may be wondering at what point you register for the free 30-day evaluation during the five steps above? It all happens during Step 5.
During the First Boot Configuration Wizard you'll see the Registration/Select Edition screen (similar to the screenshot below). First pick the ClearOS Business Edition on the far right.
 The final step to getting the 30-day trial is on the Registration/System Registration screen (similar to the screenshot below).

If you do not already have a ClearOS Software Delivery Network (SDN) Portal account, you'll need to click the Create Account button. Note: your  (SDN) Portal account info is different than the root admin account info you entered during Step 3 above.
Once you know your portal credentials, enter them in the Account field, choose New Install from the Type dropdown menu then select a 30-day option from the Subscription dropdown menu.
Additional Information and Resources
Below you'll find information about minimum required server specifications and links to support info, additional resources, and training materials.
ClearCenter ClearCARE Support
Your 30-day ClearOS Business evaluation comes with 30 days of free ClearCARE support. See this page for more information and instructions on creating a support ticket.
Minimum Specs and Helpful Information to Know
ClearOS requires dedicated hardware to run on (unless you are installing on a virtual machine). ClearOS is an Operating System (OS). It is not an application that runs on an OS like Windows.
ClearOS Business requires a 64-bit processor, 1GB RAM and 5GB hard drive space as a minimum for running ClearOS. For more information, click here.
ClearOS will install over and erase your server/PC's hard disk. Any data on this hardware will be irrecoverably lost.
ClearOS Editions and Subscription Plans
Do you have any questions on the differences between ClearOS Community, Home, and Business Editions? If so check out the comparison below.
When you are ready to purchase ClearOS Business, visit the link below to see which features are included with each of the 4 ClearOS Business Subscription Plans.
ClearOS Business Subscription Plans - Bronze, Silver, Gold or Platinum
List of ClearOS Resources
Documentation Overview
What to Expect
Getting Started
User Guide
Training and Certification Videos