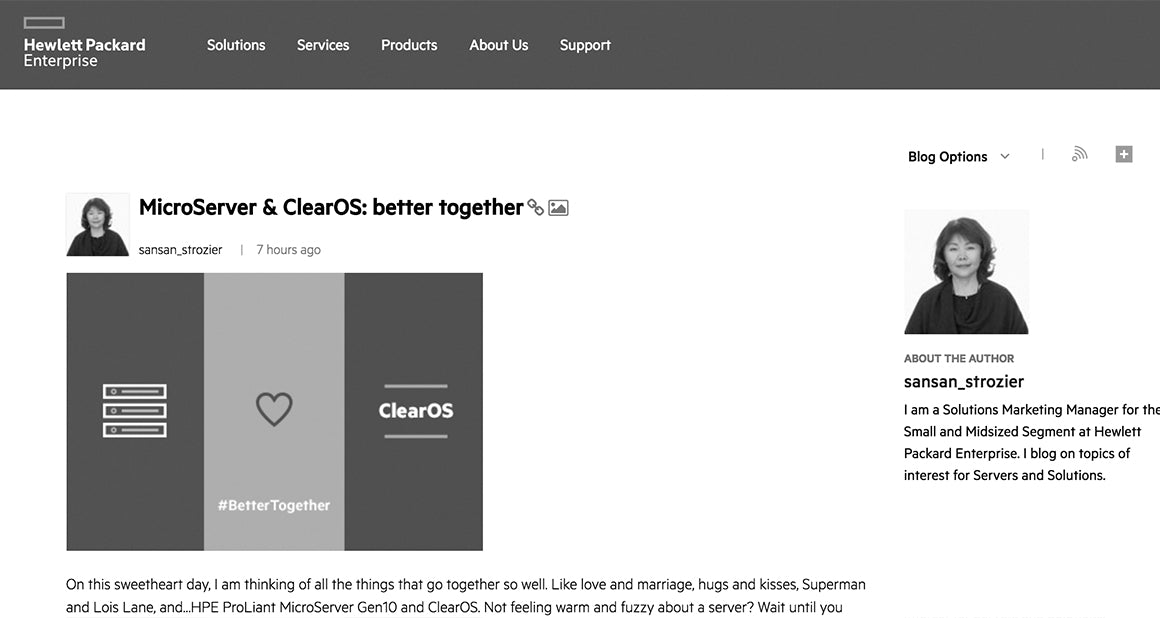 Originally published by SanSan Strozier on the HPE Community Home Blog.
On this sweetheart day, I am thinking of all the things that go together so well. Like love and marriage, hugs and kisses, Superman and Lois Lane, and…HPE ProLiant MicroServer Gen10 and ClearOS. Not feeling warm and fuzzy about a server? Wait until you hear what these two "yin & yang" of IT can do.
First, the unique and stylishly designed HPE ProLiant MicroServer Gen10 with essential business features is a great IT solution for businesses just starting out or with small IT budgets. This compact, whisper-quiet server powered by AMD Opteron™ X3000 APUwas made just to fit in to your small office. Once it's settled in, do you know that when the MicroServer and ClearOS are together, they offer a strong combination of storage & backup (NAS) Solution, a Unified Thread Management Solution, or a media streaming Solution? But that's really just the beginning.  In fact, Gregory Dover, President of GAD Group Technology, agrees:  "I've been in this business for 25 years, and I know something good when I see it. ClearOS on HPE ProLiant MicroServers is really good."  (See case study)
The HPE ProLiant MicroServer Gen10 is out to redefine your relationship, with a completely new approach to the operating system (OS) that lets you easily customize it into a solution that's just right for you.
Starting with Gen10, you can choose ClearOS at no additional cost. This easy-to-use OS was inspired by the elegant simplicity of smartphones. It features a built-in application marketplace, allowing you to customize a fully functional server with just a few mouse clicks. With over 100 applications to choose from, you can build an IT solution that's just right for your precise needs—and budget.  It also features an elegant user interface that's completely web-based, making it available on any browser on almost any web-connected device. What's more, ClearOS is an open source Linux® server OS that can be integrated with existing IT deployments, including Microsoft® Windows® environments.
Check it out, you'll see in an instant what this sweetheart pair can do together: