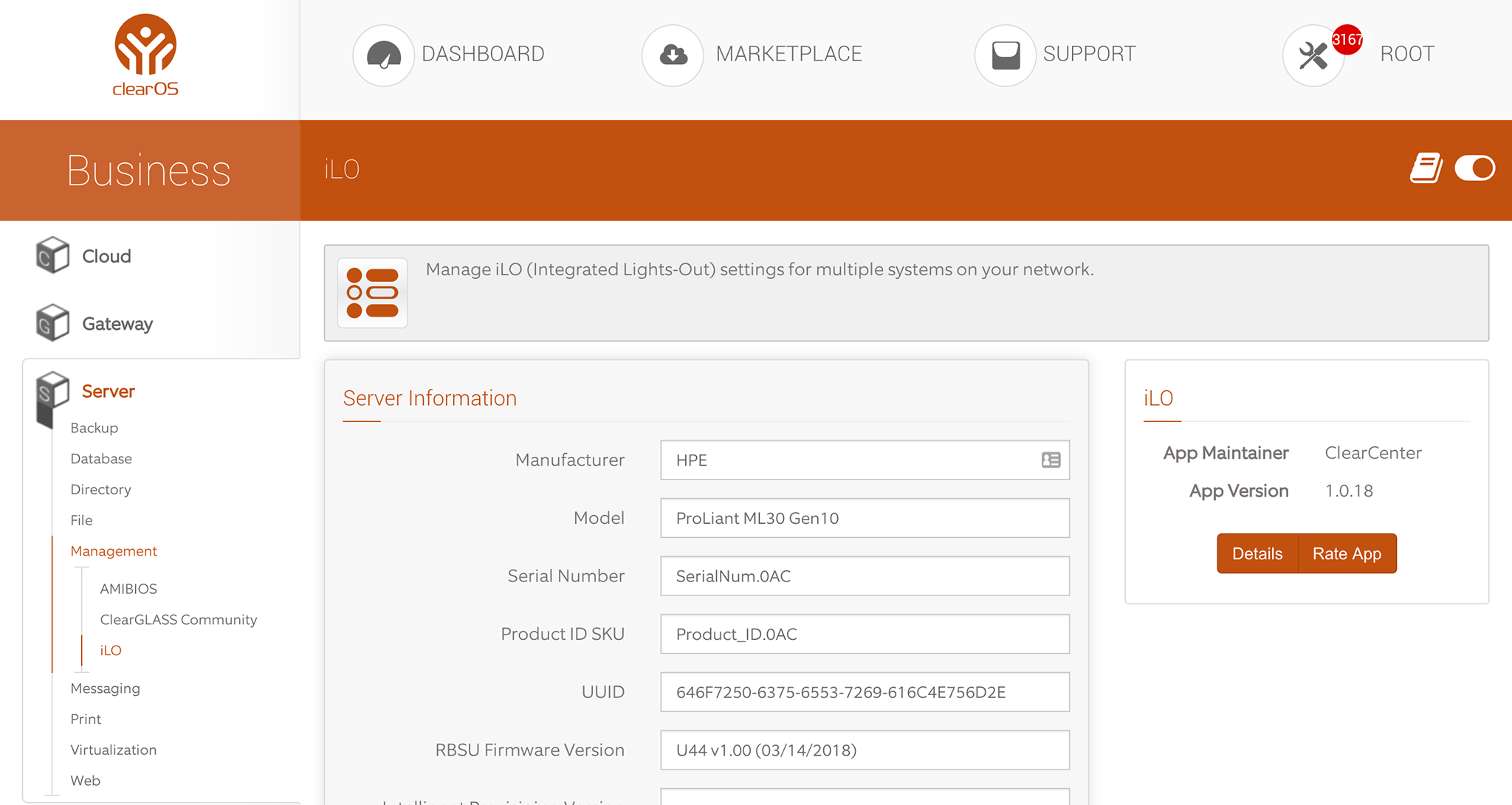 The recent ClearOS 7.6 update now offers two new ClearOS apps designed to work alongside ClearOS to aid in managing Hewlett Packard Enterprise (HPE) hardware.
Using these new apps, the combination of HPE hardware and ClearOS is even more powerful than before in helping to reduce IT management hours and costs.
These new apps are also a great reason to check out ClearGLASS from ClearCenter. You can manage and monitor multiple HPE ProLiant servers from just one pane of glass and use ClearGLASS to automate the ClearOS AMIBIOS and iLO apps.
AMIBIOS Management:
If the HPE ProLiant MicroServer Gen10 is in your shop, you'll want to check out the ClearOS AMIBIOS Management app built just for HPE's popular small business server.
From within the ClearOS interface, you can use the AMIBIOS Management app to backup & restore BIOS configurations and even patch the BIOS on your MicroServer Gen10 remotely.
iLO Management:
The ClearOS iLO Management app supports most HPE ProLiant servers that ship with iLO 5.
If you've managed HPE servers for a while you've almost certainly benefited from the life-changing experience of managing physical machines using HPE's world-class Integrated Lights-Out (iLO) server management software that enables you to configure, monitor, and update your HPE hardware from anywhere in the world.
The ClearOS iLO Management app brings support for monitoring and triggering iLO 5 features right from within ClearOS itself.
When paired with ClearGLASS, you can set many tasks to autopilot mode saving even more time and trouble by automating any one or a sequence of tasks on just a few or all of your HPE ProLiant servers at the same time.
Both the AMIBIOS Management and iLO Management are free apps live now in the ClearOS Marketplace for all ClearOS 7.6 Editions.